ORT Digi Eyes Patch Antenna with Stubby for DJI Goggles - LHCP
ORT Digi Eyes Patch Antenna with Stubby for DJI Goggles - LHCP
Only left for same day shipping. Order now!
ORT Digi Eyes Patch Antenna with Stubby for DJI Goggles - LHCP
The ORT Digi Eyes Patch antenna gives you better penetration, more stable latency, and longer range, yet still maintains wider beamwidth compared to the stock antennas.
About this product
The ORT Digieyes HD Antenna for your DJI Digital FPV Goggles. A Full set circular antenna combo that consists of directional & Omni antenna to offer compact & low profile antenna with better range possibilities and features great coverage of an Omni at a reasonable price.
ORT Digieyes HD Antenna is based on a proven patch and pagoda antenna design that is specifically retuned & designed as a Plug and Play upgrade for your stock DJI Antenna of DJI FPV Goggles. ORT Pagoda Stubby is our favorite to replace the stock DJI Antenna for its low profile size (about 50% shorter) and higher efficiency.
ORT Digieyes HD Antenna provides a wider frequency range so it will perform best at any DJI FPV channel. It also has the balanced performance of penetration & range and beams coverage, with 7.5 dBiC gain it covers 80° both horizontal and vertical area.
Other than great balance performance and reasonable price, ORT Digieyes also provides compact and low form factor weighing only 18gr each including connector and cable. This alone makes it worth upgrading your stock antenna, so it will make it easy to store in your bag, and never need to worry to remove the antenna ever again. Each patch comes with 3M thin but strong double-sided tape for easy plug n play installation.
Note: Goggles Not Included.
VIDEO: See further with DIGIEYES? (O.R.T. DJI Fpv Antennas)
Features
ORT Digieyes HD Antenna

ORT Pagoda Stubby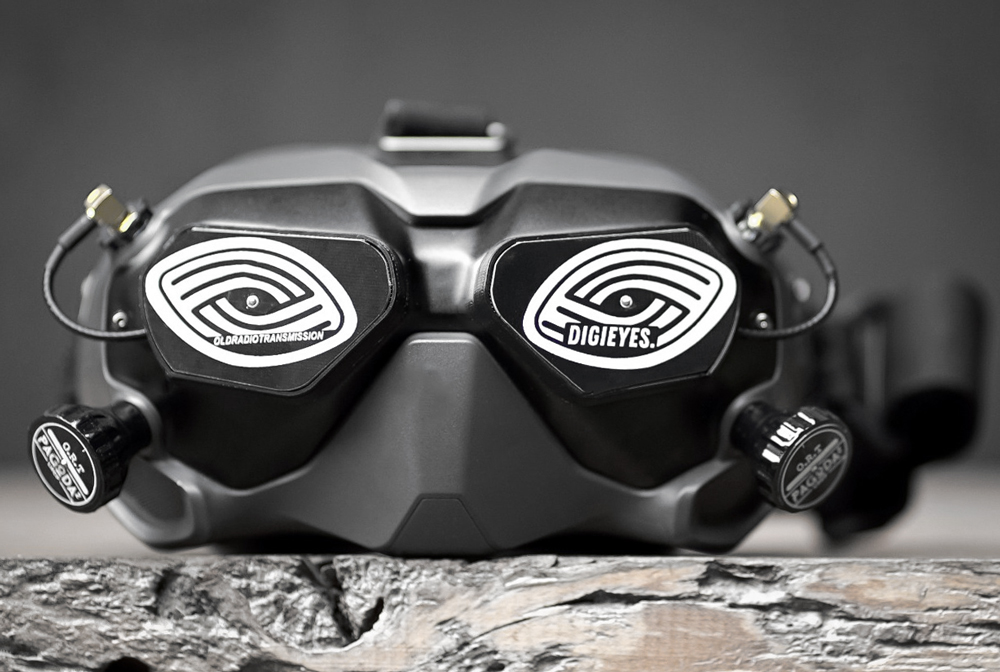 Specifications
ORT Digieyes HD Patch Antenna
Connector: RP-SMA (plug & play with DJI Goggles)
Frequency Range: 5600~6000 MHz
Dimensions: 64mm x 37mm x 8mm
Beam Width: 80° V & H
Polarization: LHCP
Weight: 18g each
Efficiency: 85%
Gain: 7.5 dBiC
VSWR: >1:1.5
ORT DJI Stubby Pagoda
Connector: RP-SMA (plug & play with DJI Goggles)
Beam Width: 360 degrees (Omni Directional)
Dimensions: 25mm x 20mm x 25mm
Frequency Range: 5550~6050 MHz
Polarization: LHCP
Gain: 1.2~1.3 dBiC
Weight: 7g each
Efficiency: 95%
VSWR: >1:1.3
Includes
2x O.R.T. Patch Antenna for DJI
2x Stubby
Note: Goggles Not Included.
More Information
| | |
| --- | --- |
| SKU | 14584 |
| Manufacturer | ORT |
| Antenna Frequency | 5.8GHz |
| UPC (GTIN) | 789862851585 |
| Polarization | LHCP |
| Antenna Connector / Length | RP-SMA |
| Item Returns | This item can be returned |