Product was successfully added to your shopping cart.
Details
The Mobius Action Camera combines excellent video recording, low weight, shallow profile, and best of all low cost. It can deliver GoPro like quality video even in its small form factor.
Specs:
1080p HD @ 30fps, 720p HD at 60 or 30fps
New Wide Angle Lens C2 features 132 degrees (HFOV), no lens flare and better brightness
820 mah battery lasts for about 80 minutes in optimal temperatures
Micro SD Cards up to 32GB
39g (camera only)
Audio and Video out available
Included with Mobius camera:
1 mounting sleeve (base) with 1/4"-20 thread for tripod use
USB cable
1" Hook and Loop tape
User Toggled Functions:
Two user selectable video modes, toggled by the mode button after power up. Either mode can be set to record 1080p-30fps or 720p-60fps or 720p-30fps in .MOV format.
Three movie quality settings (Super, Standard, and Low), which will vary the recording bit rates suitable for the user-selected frame size and frame rate. The Super setting (called the "High" setting in the GUI) with 1080p-30 fps video gives an approximate average total bit rate around 18,000 kbps with a high detail and motion scene. The Low setting with 720p-30 fps video gives approximately 5,800 kbps on the low end.
Five video recording cycle time settings will be 3, 5, 10, and 15 min. plus "Max", all of which will stop/save/continue. The Max setting will record until the 4GB files size limit is reached unless the memory card runs out of space or the battery power is removed. The actual Max recording time will vary dramatically according to the users settings.
Loop Recording will continue recording when the card fills up by deleting the oldest clip on the card to make room. This mode requires either a 3 or 5 min. clip length setting to work. Pressing the mode button while a recording is in progress in this mode will tag the file as write protected when it is saved, so it won't be overwritten. The file can be manually deleted, though.
Movie Flip (180 deg. rotation) will record a video right-side up when the camera must be mounted up-side down.
Movie Sound allows turning off the sound and eliminating a sound track from a video file to save file space when no sound is wanted.
Photo capture mode with frame sizes of 2304x1536, 1920x1080, or 1280x720 (no up conversion).
Time Lapse photos with delays between images of .25*, .5*, 1, 2, 5, 10, 30 and 60 second intervals. * Note: The settings below 1 sec. require a photo frame size of 1920x1080 or smaller, and they will not have a date stamp even if it is turned on.
Recording LED toggle flashes the recording mode LED on the top and rear of the camera.
Movie/photo time stamp toggle
Power on button delay (to prevent premature activation while handling)
Auto-record when power to the camera is applied (useful for car recorder use - no button presses needed.)
Charging on/off toggle when plugged into a USB data port (useful for some external USB devices)
TV out (PAL or NTSC), which includes a playback mode with audio.
TV display ratio (4:3 or 16:9)
GUI program for Windows OS for easy setting of the parameters as well as updating the firmware and the GUI program itself.
For more information about setup, firmware, and general use, please visit and read this extensive Mobius thread by Tom Frank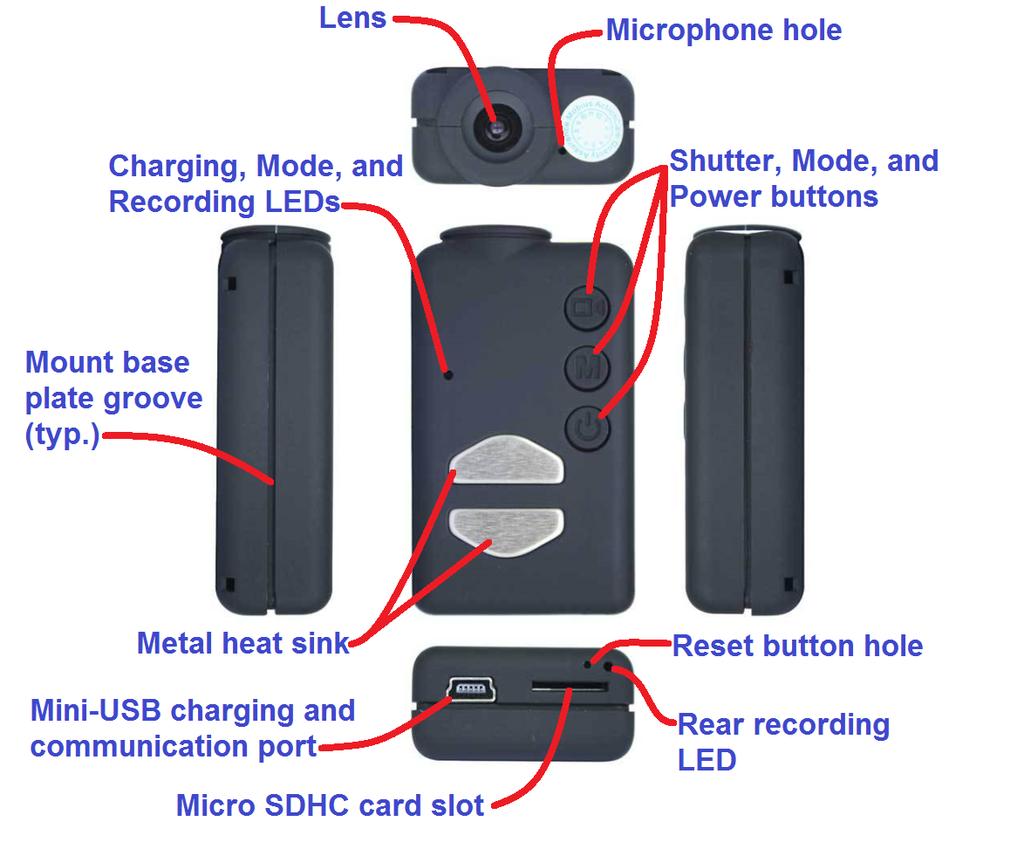 Additional Information
| | |
| --- | --- |
| SKU | 1701 |
| Manufacturer | GetFPV Affiliate |
Not all the same lens review by Vincent on 10/5/2016

When I ordered two Mobius camera I knew exactly what to expect since I've been through a few of them and I'm very satisfied of what I get for the price. However, I was not expecting to get two different lens. Both camera have been ordered at the same time and one have a lens C and the other have a lens C2. This is not a big deal but I was assuming that both camera would be identical.