Ummagawd Cricket FPV Moongoat Replacement Shoulder Bolts (2pcs)
Ummagawd Cricket FPV Moongoat Replacement Shoulder Bolts (2pcs)
In Stock
Only left for same day shipping. Order now!
Ummagawd Cricket FPV Moongoat Replacement Shoulder Bolts (2pcs)
These Replacement Shoulder Bolts are for the 5" Ummagawd Moongoat Frame.
About this product
These Replacement Shoulder Bolts are for the 5" Ummagawd Moongoat Frame.
The Ummagawd Cricket FPV Moongoat is designed specifically for the DJI HD system (and Caddx Vista). The Moongoat frame is extremely versatile while maintaining a balanced center of gravity, for rock-solid performance that simply feels great to fly. It can be set up with a GoPro upfront, rear-facing GoPro outback, DJI digital HD video or analog, 30x30 stack, or 20x20... this frame has a pre-meditated way of mounting your gear without compromising performance. Both the center and rear sections have adjustable mounting for both 30x30 and 20x20 electronics. Simply slide along the slot as needed to make any electronics fit.
The Moongoat is the result of a year's worth of R&D with a bar set so high that only someone who flies backward can achieve it. Whether you're trying to be the greatest pilot in the world or simply trying to enjoy the art of flying, one thing is for sure... you don't want to worry whether or not your frame will survive what you're about to do. Your mindset should be... FULL SEND!
A custom grade 12.9 shoulder bolt secures the arms in place while pinning them together to prevent rotation. This attachment method maintains incredible strength, 1 bolt arm swaps, and keeps the center section wide open to mount a variety of electronics without sharing hardware.
From the custom shoulder bolts and standoffs (made to our standards) to shortened arms and boxed in-camera cage, this frame was made to take a beating!
Note: These are the Shoulder Bolts only, all other parts are sold separately.
VIDEO: Building the Monngoat! FPV Drone Build Video! Cricket's New Frame with DJI Air Unit!
Features
Designed in collaboration with Cricket FPV by The Ummagawd Company
Custom made stainless steel
12.9 Grade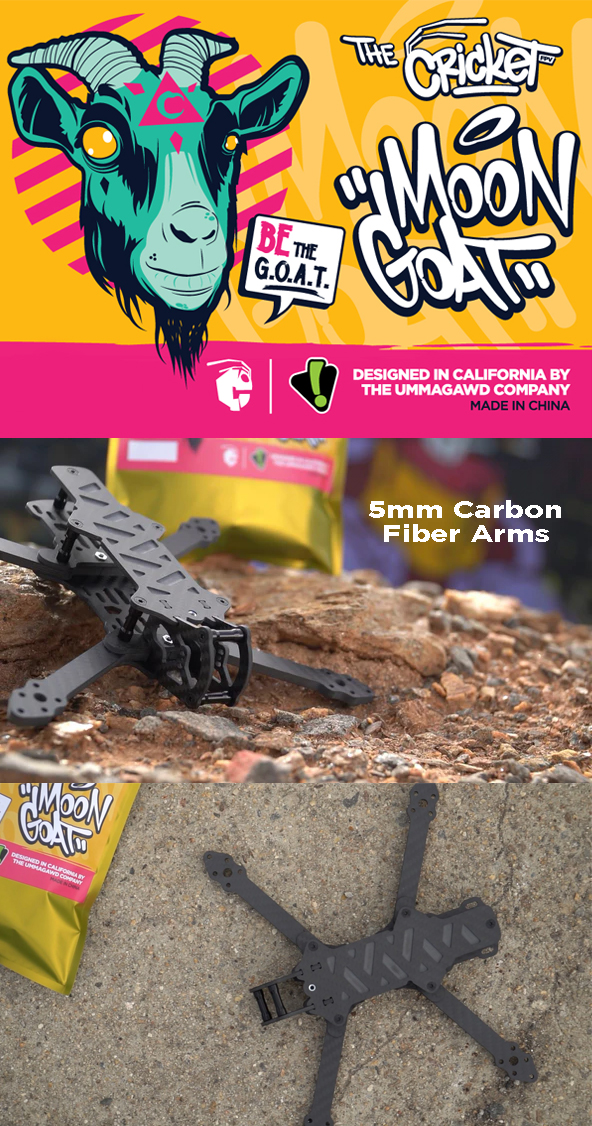 Specifications
Material: Stainless Steel
Length: 10mm
Grade: 12.9
Includes
2x Ummagawd Moongoat Replacement Shoulder Bolt
Note: These are the shoulder bolts only, all other parts are sold separately.
More Information
| | |
| --- | --- |
| SKU | 16250 |
| UPC (GTIN) | 764613333749 |
| Manufacturer | Ummagawd! |
| Item Returns | This item can be returned |