Product was successfully added to your shopping cart.
Details
The Skyzone FPV Goggles with built in 5.8GHz 48ch. video diversity bring your FPV experience to the next level! These goggles are an all in one ground station in a super compact form + the added benefits of video diversity. The innovative imbedded front facing camera also lets you look around you with the touch of a button without needing to remove your goggles. Now you can launch and land your FPV aircraft LOS with ease, or take a quick look at your surroundings while on the ground.
The built in video diversity offers 48 channels on the 5.8GHz band, compatible with many popular video transmitters such as Foxtech, DJI, Boscam and more. Now you can use 2 different types of antennas, such as an omni-directional and a directional. Flying in a straight line long distance in the direction you're facing, or closer 360 all around you and the diversity will automatically choose the best reception.
The Skyzone FPV Goggle set comes all the cables you'll need to get going, and includes an imbedded head-tracker. Power the goggles via an external battery, ~7-26v (2s or 3s batteries work great).
This is version 2.0 that does not have the flickering issue.
Features
Built-in 48CH 5.8G Diversity that is compatible with most FPV 5.8G transmitters on the market (Foxtech, DJI, Boscam)
Built-in self calibrating headtracerk using a combination of gyros, inertial sensors and compass
Dual 854X480(WVGA) LCD Monitor, 1,229,760 color sub-pixels
Built-in external camera for surrounding view (640X480)
A/V in A/V out Earphone socket
Includes
Skyzone Diversity FPV Goggles
Carrying case
Futaba data cable
JR data cable
WFLY data cable
A/V cable
Power cable
2x 5.8G 2dBi antenna
Manual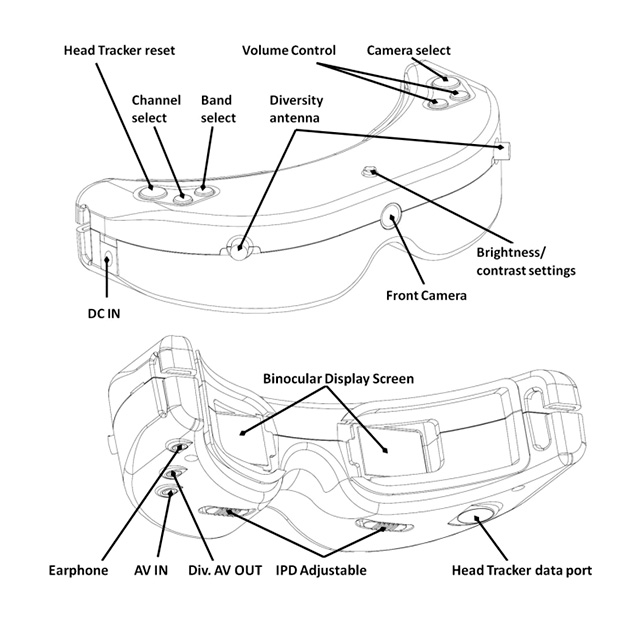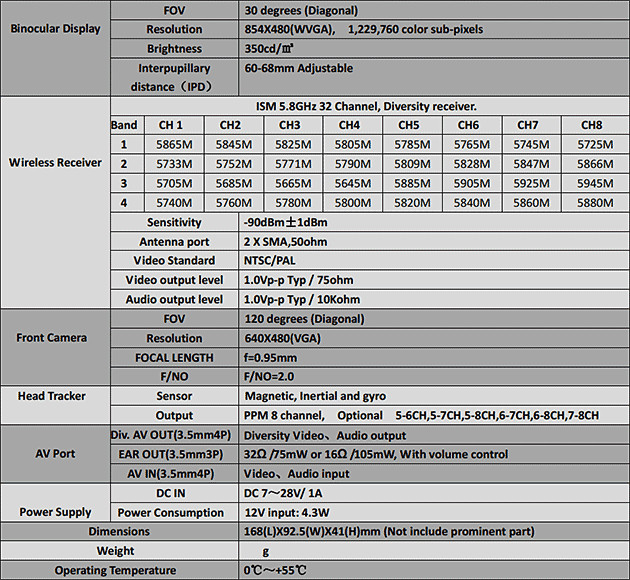 Good review by Diego on 9/11/2017

These are great goggles overall. My only complaint is a little light leaks though the front into your vision. I just put tape over the leaks (mostly around antenna adapters) and put stickers over that. Great product and easy to use.
Also Purchased
Regular Price: $49.99

Special Price $34.99

Regular Price: $38.99

Special Price $29.99