NewBeeDrone Hummingbird Brushed Flight Controller
NewBeeDrone Hummingbird Brushed Flight Controller
Select options for stock status
Only left for same day shipping. Order now!
NewBeeDrone Hummingbird Brushed Flight Controller
The Hummingbird Flight Controller is the first silverware FC to include on-screen-display and VTX control functions.
About this product
NOTE: This product does NOT include a receiver module, and requires soldering to install. Each flight controller is exactly the same other than the firmware that comes flashed on to them. You can always reflash them to the protocol of your choice.
The next generation of silverware flight controllers is here, we give you the Hummingbird Flight Controller! The first Silverware FC to include On Screen Display and VTX Control functions.
The Hummingbird FC running our custom tuned Silverware firmware is the ultimate FPV Brushed Angle Racer on the market!
The Hummingbird Flight controller features a built-in VTX with 1mw - 25mw switchable power as well as adjustable On Screen Display functions including changing of the VTX bands and channels. Simply solder on a receiver of your choice in FrSky, DSM, or Crossfire Nano to make your board ready to fly.
Special thanks to Patrick Clarke (Mr. Mockingbird) & Silverware Developers Travis Schrock (NotFastEnuf) & Silver13
Radio Channel Mapping:
The channel mapping is critical for making your Hummingbird fly, some radios will have different mapping (ex: Taranis X9D is A.E.T.R., while Taranis QX7 is T.A.E.R. even though they are both FrSky Protocol) Depending on which Protocol your hummingbird has been flashed with, you will need to change the order on your radio as this is not editable on the hummingbird firmware. See the list below for proper channel mapping:
FrSky Radios - A.E.T.R. (Aileron - Elevator - Throttle - Rudder)
Spektrum Radios - T.A.E.R. (Throttle - Aileron - Elevator - Rudder)
Crossfire Settings:
Receiver RSSI must be set to channel 9 in crossfire Lua script on radio/module in order to correctly see OSD RSSI.
Latest Hummingbird Firmware:
All Hummingbird Flight Controller Boards are the same, the only difference is the firmware that comes flashed on them. You can flash any provided protocol hex on your Hummingbird FC regardless of what it was shipped with. When flashing please always do a full erase first and then flash. You can purchase the flashing cable HERE.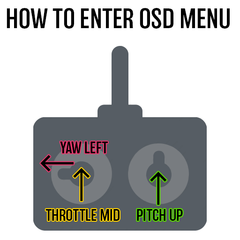 Specifications
F031K6 Processor - Silverware Firmware
MPU6050 Gyro
4 x 30A Mosfets (Pulsed)
NewBeeDrone OSD (On Screen Display) & VTX Control
Built-in VTX 1mw - 25mw switchable power
Built-in Barometer
Battery Monitor
JST PH-2.0 Nectar Connector Power Lead
Programming Port Available
Custom tune by Mr.Mockingbird (Team Pilot Patrick Clarke)
Includes
1 x Hummingbird Flight Controller with on-board VTX
5 x Mounting Grommets
5 x Mounting Screws
5 x Motor Wire Rubber Bands
1 x Receiver Pin Adapter
1 x BeeEye Camera & V2 Canopy
More Information
| | |
| --- | --- |
| SKU | 10584 |
| Manufacturer | NewBeeDrone |
| Item Returns | This item can be returned |