Stan FPV Feather 5" Ultralight Frame Kit - Long Nose
Stan FPV Feather 5" Ultralight Frame Kit - Long Nose
Only left for same day shipping. Order now!
Stan FPV Feather 5" Ultralight Frame Kit - Long Nose
The Stan FPV Feather 5" Frame Kit will lift you into the sky as you rest easy knowing you're flying the best. This frame has a True X Configuration for a neutral feel with a Long Nose frame perfect for Freestyling, Live Stream, and Long Range.
About this product
The Stan FPV Feather 5" Frame Kit is perfect for your Sub250 build. This Long Nose version is specially designed for both Analog and DJI Digital capabilities. Freestyle racing at its finest - with a frame that has a symmetrical True X Configuration for a more natural feel!
The Feather has dual (M2)12x12 and (M3)16x16 normal motor bolt holes and also the new straight two base (M2)12x12 hole pattern recently released by Stan FPV's friend Tommy, so you have TONS of motor options you can choose to put on the Feather Frame!
FPV is literally one of the most amazing experiences a human being can do. It allows a person to FLY LIKE A BIRD - yet bear absolutely no risk to the body - many could have used this so many years earlier in life! Find your freedom in the sky!
Note: Frame Kit Only. Electronics, Motors, Props, Etc. are NOT Included.
VIDEO: Sub250g 5inch FPV Drone Maiden Flight - WOW!! Feather is the definition of FPV FUN!!!
Features
Designed for Smoother Handling Cinematic and Freestyle Builds
Long Nose Version for Freestyle, Live Stream, or Long Range
Optimized Center of Gravity with Optimal Arm Leverage
Accepts Analog and HD configurations
Symmetrical Motor Layout
True X Arm Configuration
Versatile LIPO mounting
Can fit 5" UDP-Guards
Fits up to 5.1" Props
More "Neutral" Feel
"Air-Thru Design"
No Props in View
ANALOG/ DJI HD FPV COMPATIBILITY
Tons of mounting areas for all you're analog components + additional 20x20 holes for Vista / Nebula Pro / Nebula Nano mounting front and rear of main stack center area. Fits a full air unit too!
VERSATILE LIPO MOUNTING
Versatile LIPO mounting can be top-mount or bottom-mount, both traditional and sideways (toilet tank) for endless CG options.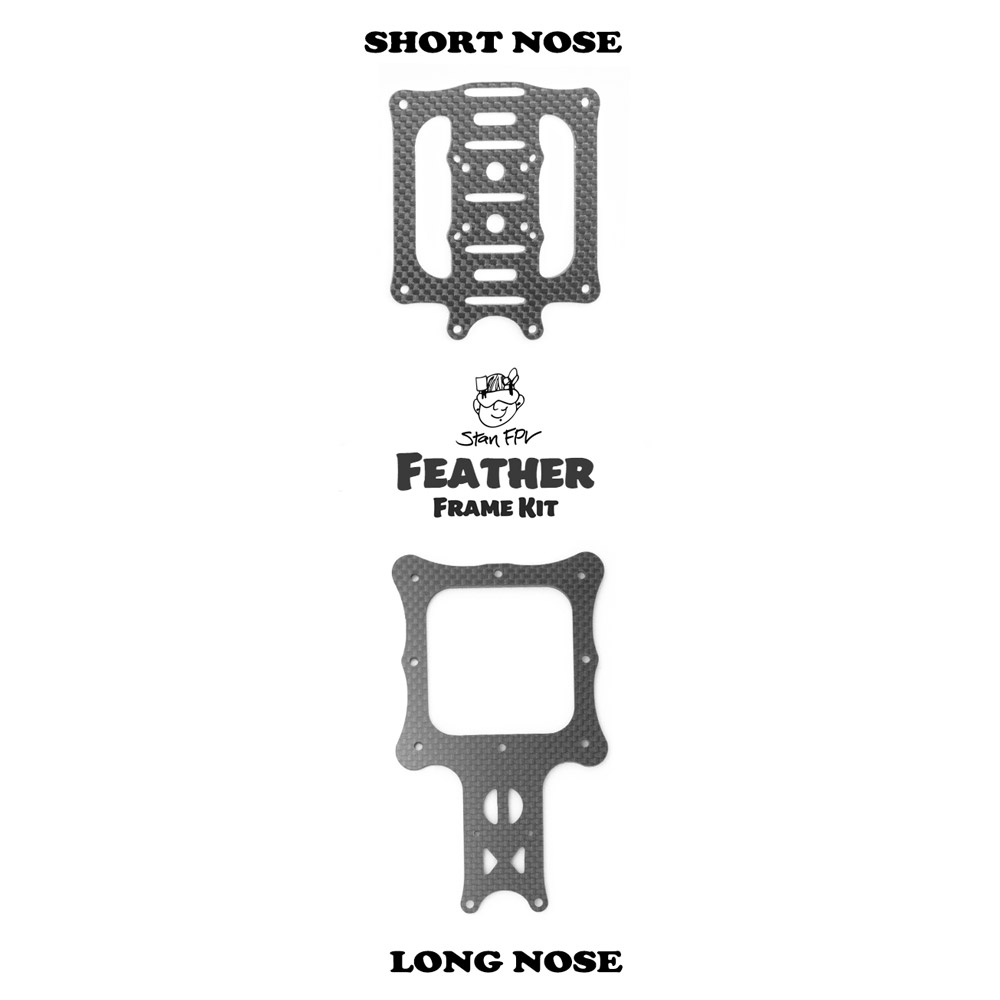 Specifications
Accepts Motors: 12x12 m2, 16x16 m3, 12x12 straight two m2
Prop Size: 4-5" (Top Mount Lipo) / 4"-6" (Under Mount Lipo)
Accepts Electronics: AIO 26x26 holes & 20x20 holes
Battery Mounting Options: Traditional / Toilet Tank
Dedicated Mounting for Vista: Yes
Accepts FPV Cam Size: Nano
Action Cam Mounting: Yes
Analog or Digital: Both
Removable Arms: Yes
Includes
1x TPU Rubber Crash Protector Nano Camera Mount

1x Stan FPV Feather Long Nose Top Plate

1x Stan FPV Feather Bottom Plate
1x Stan FPV Feather Clamp Plate

4x True X (Symmetrical) 5" Arms

2x Stan FPV Lipo Straps

1x Hardware Set (Steel)
More Information
| | |
| --- | --- |
| SKU | 17248 |
| UPC (GTIN) | 764613342031 |
| Manufacturer | StanFPV |
| Item Returns | This item can be returned |