Product was successfully added to your shopping cart.
Details
This is the new Lumenier MX series of multirotor motors. This motor has been designed to provide maximum power and thrust in a small and lightweight package. The MX motors use a more powerful stator in combination with N52SH magnets and very small air gap, resulting in incredible power and performance.
Designed to provide top power during drone racing and a KV of 2450kv the MX2206 steps up the kv rating compared to the RX2206 2350kv motors that are so popular with acrobatic pilots. The new MX2206 motors come in at 28g continuing Lumenier's tradition of creating some of the lightest racing motors on the market.
Carefully assembled and dynamically balanced to the highest standard in Lumenier's climate controlled facility, the new Lumenier MX2206 motors deploy new glue technology, application robots for even glue distribution, and advanced curing procedures to ensure magnets won't slip -- even under the tremendous demands put on them during drone racing and FPV freestyle events.
Includes
1x Lumenier MX2206-9 2450Kv Motor
1x Lumenier M5 Black Aluminum Low Profile Lock Nut (CW)
4x M3x5 Button head screws
Specifications
| | |
| --- | --- |
| Kv | 2450 |
| Configuration | 12N14P |
| Windings | 9 turn DLRK |
| Termination | D (Delta) |
| Stator Diameter | 22mm |
| Shaft Diameter | 3mm |
| Motor Dimension | 27x18mm |
| Weight | 28g (with wires) |
| Idle Current @12.6v (Io) | 0.76 A |
| Cells (LiPo) | 2-4S |
| Max Continuous Current (A) 60s | 22A |
| Max Burst Current <10s | 32A |
| Max Continuous Power (W) 60s | 320W |
| Max Efficiency Current | (2.2-6A) 80% |
| Internal Resistance (Rm) | 240mΩ |
| Motor Wire Length | 100mm |
| Motor Connection | Bare Wire |
Static Thrust Data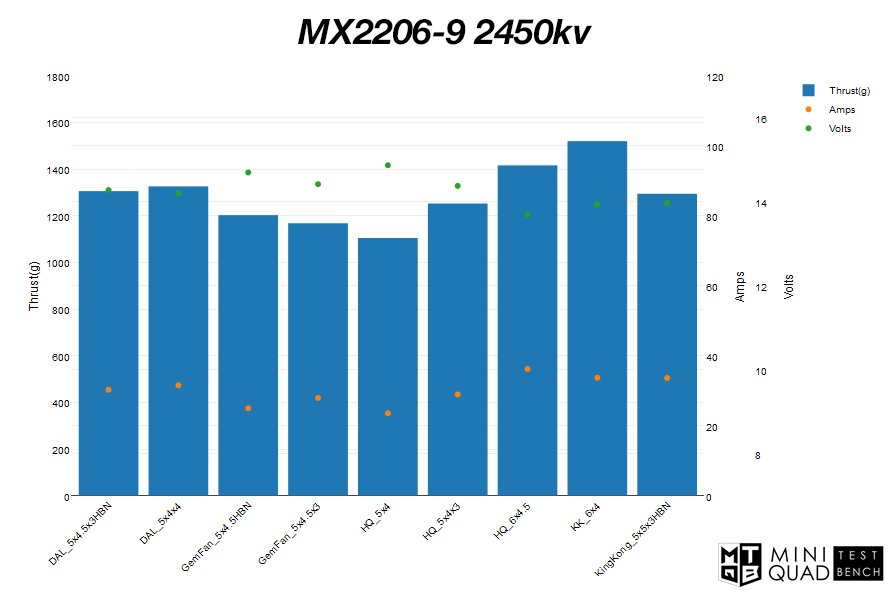 Videos
Additional Information
| | |
| --- | --- |
| SKU | 6565 |
| Manufacturer | Lumenier |
Excellent motors for racing review by FreeFall on 9/26/2017

I use these and the 2350kv version for racing. Depending on the size of the track the 2350kv are incredibly efficient and work fabulous on small, tight and technical tracks. The 2450kv version is a powerhouse on the bigger tracks where full throttle is more often used. Super smooth power delivery helps me keep my altitude and pitch consistent with plenty of torque to power out of dive gates and fast transitions. These are my go to motors on every quad I race with and I use them on my freestyle quads as well.

Smooth & Power Nice motor review by Minsoo on 6/22/2017

it was Awesome Thrust is smooth & Power,2450kv is much better than 2350kv.

Great Motors review by Daniel on 6/12/2017

One of the motors came without any markings, not that that affects functionality in any way, some people might actually like that. One of the motors also has slightly more space from between the two halves of the motor by about a mm, and the screws that come with the motors strip easily. these are mainly insignificant flaws that i hope are addressed. However when it comes to flight these motors know where to shine, Super smooth, Great throttle control, Solid build, And they pack a punch. 9/10 would not smelt for scraps. also, when i was installing the motors, at first i had used my own which were 1mm longer, however after troubleshooting this seemed to cause the motors to sound like they had sand in them, switching to the default screws fixed the issue.

They fly great! review by Alex on 1/5/2017

The flight performance of these motors blew me away. They are really smooth and I would prefer them over the old RX2206. They are exactly the same but they generate more thrust. The one thing that was kind of annoying was when I got them, one of the 4 had some sort of glue that blocked one of the screw holes. I tried shaving it out with a screwdriver, but I couldn't get all of it out. I had to only use 2 of the screw holes.
Also Purchased
Regular Price: $19.99

Special Price $18.99

From: $89.99

To: $2,152.82