GEPRC SMART 16 1.6" Nano Freestyle Drone - Frame Kit
GEPRC SMART 16 1.6" Nano Freestyle Drone - Frame Kit
Only left for same day shipping. Order now!
GEPRC SMART 16 1.6" Nano Freestyle Drone - Frame Kit
Introducing... the GEPRC SMART 16 Freestyle Frame Kit!
About this product
Introducing... the GEPRC SMART 16 Freestyle Frame Kit!
This 1.6 inch mini Freestyle Frame is a tiny, lightweight freestyle FPV addition to the GEPRC Phantom series. The SMART 16 continues the consistent lightweight design concept of the Phantom series. The 1.5mm carbon fiber arm, with a 1mm top plate, creates a balance point that is maintained between the strength of the fuselage and the weight of the whole drone which allows it to be lightweight and tough at the same time. The M1.4 Motors mounting holes can be used to install small 3-hole brushless motors to reduce the weight of the body. Good arm width contributes to high durability. This design is great for freestyle flying, with no props in view!
Thanks to the 3D printed parts, the frame weighs only 8.5g, saving a lot of overall weight. The independent battery compartment is designed to stick the battery on top and below the drone making it very convenient and fast to replace batteries.
Note: Frame Kit Only. Other parts not included.
VIDEO: Nano Size FPV Freestyle Drone - GEPRC Smart 16 - Full Review
Features
Independent battery compartment design can be stacked on top or bottom, making it easy and convenient to switch batteries.
The latest 0803 motors are matched with 1610-2 propellers proving maximum power and efficiency
Includes a full set of high-quality 3D printed parts for a superior flying experience
14x14mm Spacing for Nano Cameras
Suitable for both Freestyle and Racing
1.6 Inches and Lightweight at 8.5g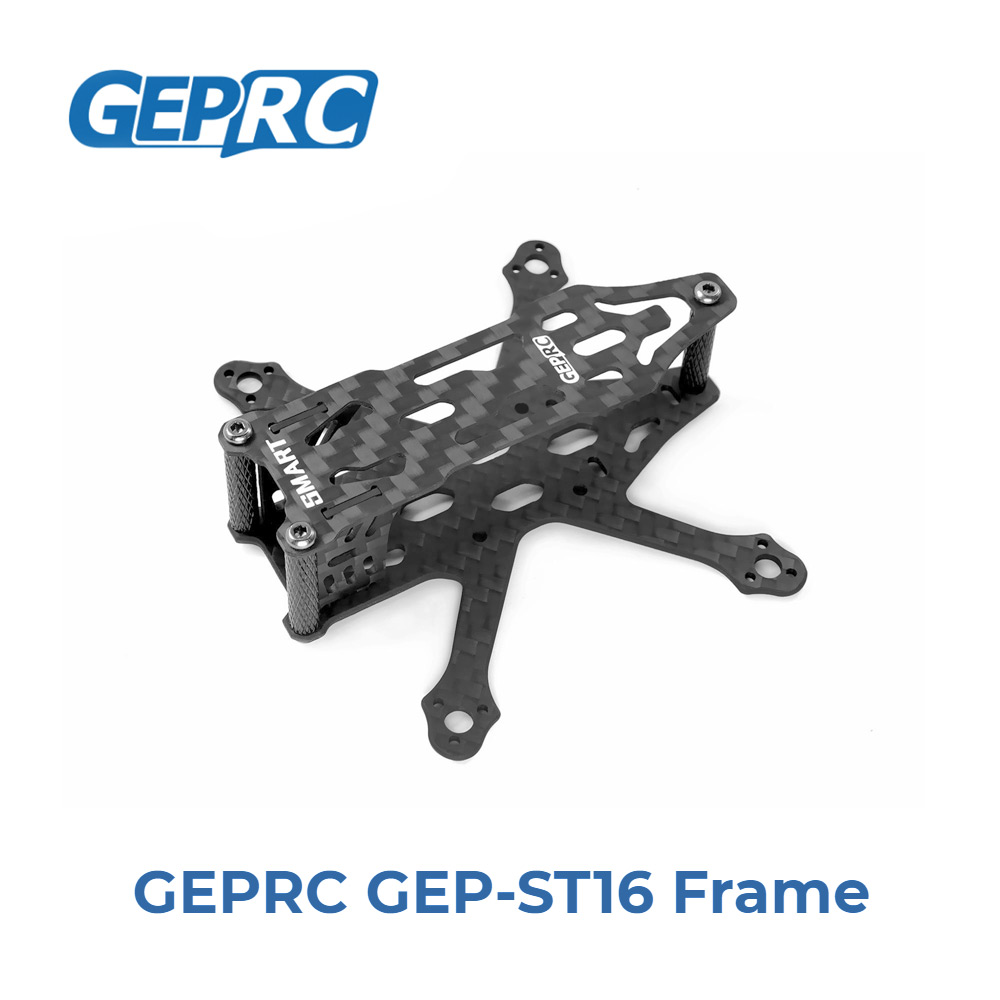 Specifications
Motor mounting holes: 3-M1.4-EQS-Ø6.6
ESC mounting holes: 16mm x 16mm
VTX mounting holes: 16mmX16mm
FC mounting holes: 16mm x 16mm
Weight: 8.5g (including 3D print)
Camera plate thickness: 1.0mm
Bottom plate thickness: 1.5mm
Top plate thickness: 1.0mm
Camera spacing: 14mm
Wheelbase size: 78mm
Propeller size: 1.6 inch
Brand Name: GEPRC
Model: GEP-ST16
Recommended (Not Included)
Battery: 380mAh 2S 90c XT30
Includes
1x GEPRC SMART 16 1.5mm Bottom Plate
2x GEPRC SMART 16 1mm Camera Plate
1x GEPRC SMART 16 1mm Top Plate
2x M12x120mm LiPo Strap
1x 3D Printed Part Set
1x Screwdriver Set
1x Hardware Set
2x Battery Pad
More Information
| | |
| --- | --- |
| SKU | 17632 |
| UPC (GTIN) | 764613344691 |
| Manufacturer | GEPRC |
| Item Returns | This item can be returned |