Lumenier SM-25 25mW Micro VTX - U.FL SMA
Lumenier SM-25 25mW Micro VTX - U.FL SMA
In Stock
Only left for same day shipping. Order now!
Lumenier SM-25 25mW Micro VTX - U.FL SMA
A micro 25mw VTx for FPV with a dipole antenna for use on micro and mini drones.
About this product
This is the Lumenier SM-25, a Super Mini 25mW 5.8GHz 32CH FPV Transmitter with a U.FL connection. The lower 25mW transmission power means more pilots can fly together without overpowering each other on close frequencies. The SM-25 has 32 channels including the new Raceband frequencies.
The SM-25 features an easy to use single button, LED interface. It is micro in size and only weighs 2.1g! It stays cool to the touch during operation, so you don't have to worry about it overheating in a crash.
Features
32 channels: Covers 4 Bands (Legal US frequencies with HAM Radio License)
Intuitive and easy to use button and LEDs for frequency selection
Micro sized and light weight
Transmitter frequency: 5658-5925MHz with 25mW power output
Transmitting distance > 150m (open area)
U.FL to SMA adapter for antenna
Specifications:
Operating Voltage: 3.3-5V (Do not power with more than 5v input)
Operating Current: 150 mA (350mA Max)
Operating Temperature: -10 +85 C
Size: 14mm x 18mm x 3mm
Weight: 2.2g (4g with SMA adapter)
Antenna Connector: None, direct solder
Video Format: NTSC/PAL
Frequency Selection: Single push to change CH, push and hold for 2 seconds to change FR
Frequency and channel frequency table:
Band
Channels
CH1
CH2
CH3
CH4
CH5
CH6
CH7
CH8
Band 1
FS / IRC
5740
5760
5780
5800
5820
5840
5860
5880
Band 2
Lumenier / DJI
5705
5685
5665
5752
5885
5905
5925
5866
Band 3
Bosecam A
5865
5845
5825
5805
5785
5765
5745
5725
Band 4
Raceband
5658
5695
5732
5769
5806
5843
5880
5917
Compatible with Lumenier, Fatshark, ImmersionRC, Team Blacksheep, Boscam and other generic branded FPV receivers within the same frequency range.
Included
1 x transmitting unit (VTX) SM-25 U.FL
1x U.FL to SMA adapter cable
1 x power cable
Instructions
Hardware Overview
Two LED Groups:

Group A includes 2 blue LEDs, B1 and B2 which represent the Channels.
Group B includes 5 red LEDs, R1~R4, which represent the Bands

Button Control: Short press button <1S to change channel; long press button >2S to change band.
Operating Instructions:
Short press to change CH 1-8. The B1 LED will stay solid for CH1, B1 flashes 2 times for CH2, B1 flashes 3 times for CH3, B1 flashes 4 times for CH4.
B2 LED will stay solid for CH5, B2 flashes 6 times for CH6, B2 flashes 7 times for CH7, B2 Flashes 8 times for CH8.
Press and hold button 2s to change band, F, E, A, R.
R1 stands for Band 1, R2 stands for Band 2, R3 stands for Band 3, R4 stands for Band 4.
Power off memory: Saves the last frequency band and channel.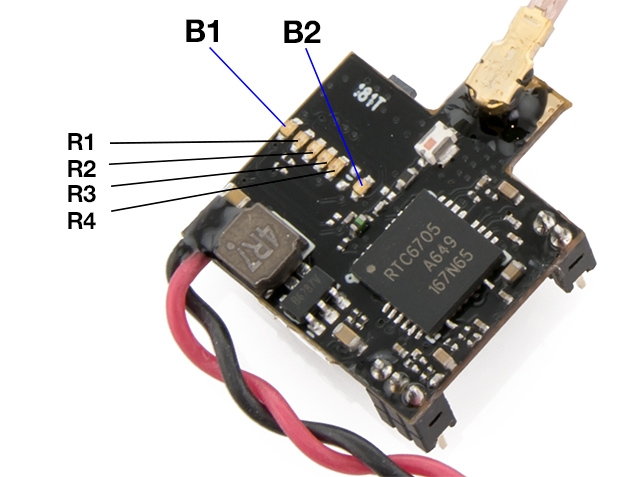 *Note: TX antenna must be installed properly before it is switched on. Powering on without installing an antenna, or using an improper antenna may easily burn the TX, and such damage is not covered by warranty.
FPV Regulatory Notice
The use and operation of this type of product in the USA and many other countries may require a license and some countries may forbid its use entirely. In the USA, you will need a "HAM" amateur radio license. Learn more about HAM licenses, and find a HAM license exam session in your area. It is your responsibility to ensure that the use of this product meets the requirements imposed by your government's rules and regulations for RF devices. Do not purchase this product if you are unsure of the government requirements or are not able to comply with them. GetFPV cannot be held responsible for your actions if you purchase and/or use this product in violation of your government's regulations. By agreeing to our terms and conditions during the check-out process, you also agree to have read and to understand this notice.
More Information
| | |
| --- | --- |
| SKU | 7430 |
| UPC (GTIN) | 652118490121 |
| Manufacturer | Lumenier |
| Item Returns | This item can be returned |