Product was successfully added to your shopping cart.
Details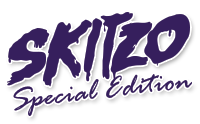 The new Lumenier 2400kv RX2205 and RB2205C "Skitzo" limited edition motors fill a gap in Lumenier's multi-rotor motor lineup, by hitting the sweetspot of power and weight.
With a 2400kv rating and 2205 stator size the new RX and RB 2205 slot in perfectly between the Lumenier RX2204 and RX2206 motors, some of the most popular drone racing and FPV freestyle motors on the market. With this new 2205, Lumenier now offers very granular motor choices from 2204, 2205, and 2206 across various kv ratings providing you great choice when specifying your build components. The new 2205 motors come in at sub 24g continuing Lumenier's tradition of creating some of the lightest racing motors on the market.
The new Lumenier 2205 motors comes in two versions. The RX2205 leverages stainless steel bearings and silver anodized, CNC-ed aluminum components while this RB2205 "Skitzo" limited edition comes in a lush purple color and deploys high quality ceramic ball bearings. Ceramic ball bearings have long been deployed in RC applications such as high performance car racing and offer the benefit of increased life span, cooler running temperatures, and super smooth and quiet performance. Lumenier is among the first brushless motor companies to deploy ceramic ball bearings in the 22 motor size for multi rotor applications.
Carefully assembled and dynamically balanced in Lumenier's climate controlled facility, the new Lumenier 2205 motors deploy new glue technology, application robots for even glue distribution, and advanced curing procedures to ensure magnets won't slip -- even under the tremendous demands put on them during drone racing and FPV freestyle events.
"These are hands down the smoothest motors I have ever flown."
-Skitzo
Includes
1x Lumenier RB2205C-12 2400KV SKITZO Ceramic Bearing Motor
1x Lumenier M5 Black Aluminum Low Profile Lock Nut (CW)
4x M3x5 Button head screws
Specifications
| | |
| --- | --- |
| Kv | 2400 |
| Bearing | Ceramic Bearings |
| Configuration | 12N14P |
| Windings | 12 turn DLRK |
| Termination | D (Delta) |
| Stator Diameter | 22mm |
| Shaft Diameter | 3mm |
| Motor Dimension | 27x17mm |
| Weight | 24g (with wires) |
| Idle Current @12.6v (Io) | 0.81A |
| Cells (LiPo) | 2-4S |
| Max Continuous Current (A) 60s | 20A |
| Max Burst Current <10s | 32A |
| Max Continuous Power (W) 60s | 290W |
| Max Efficiency Current | (2.2-6A) 80% |
| Internal Resistance (Rm) | 260mΩ |
| Motor Wire Length | 100mm |
| Motor Connection | Bare Wire |
Static Thrust Data
Coming Soon!
Videos
Product Review by FPV Academy
Additional Information
| | |
| --- | --- |
| SKU | 5065 |
| Manufacturer | Lumenier |
Premium motor for efficiency. Smooth and stealth ! review by Jason on 6/2/2017

I have always been a pilot that runs T-motors. From 2300 Kv F40, to the 2400 KV (F40V2) and also the F60 (2450 KV) motors, I have tried them all. They were good motors but rather heavy. Back then, I did not appreciate why these luminier ceramic bearings 2400 KV luminier motors were so expensive at almost 35 USD per piece.

The time came when I bought and build an armattan chameleon. In my choice of motors, I had in mind the armattan Oomph, F40 Pro, Luminier cermic and the Steele motors. I eventually bought the ceramic bearing luminer, just to try the motor. The lush purple colour of the motor appealed to me and also after reading more on ceramic bearings, I am intrigue and curious about it.

When I bought and install the motors, I was immediately awed by its performance !!!! The motors were silky smooth and incredibly EFFICIENT ! I could run my infinity lipos (more than 60 cycles old) like they were new with very very respectable flight time of over 4 minutes (aggressive flights which some punch outs) and if I am cruising, I can get times that are in excess of 6 minutes. The motors were also cool on landing and almost silent when on airmode.

I guess the smoothness of the motor and the reduced friction gave rise to more efficient performance and longer flight time. Although expensive, I feel that one of a pilot's quads must run these motors. You will get flight time beyond your imagination and smooth performance.

Lastly, I trimmed off 24 grams from my chameleon build which I feel also contributed to the increase in efficiency. If a frame is heavy, these motors could be very good choice to use in trimming some weight off the AUW of a build and having increase flight time.

Recommended ! (at least for one of your quads , you need to run these) Gotta try to believe. These motors are GEMS and scarce !

I ♡ these motors review by Nick on 10/16/2016

Great motors. They have flight characteristics similar to the Lumenier 2206 2350kv motors. Very smooth response.

Smooth, awesome quality...but expensive. review by KRONIX on 10/14/2016

I finally got my set, I am currently flying them on a charfu210 frame spinning 5x4.5 Dal v2 juiced up with bonka 4s graphene. These motors are no doubt smooth and powerful at any throttle range, beautiful quality just like any other luminere motors I've tried...We all know ceramic bearings are expensive, I just wish these will come down in price a bit, please have them in stock faster and make the replacement bell available ASAP so we can push these motors HARDER! thanks GetFpv!

Amazing! review by Robert on 10/3/2016

Amazing is the best way I can start this review!
First of all I have 2 Charpu qav210's,one has the 2204/2300 kv motors while the other has the Skitzo limited 2205/2400kv motors. It's nite and day between these 2 quads! Honestly, I use to love my other quad with the 2204 motors,it flies solid and handles those crashes we all have. Then came the Skitzo motors.....they're amazingly smooth quiet and unbelievably fast with the lumenier F390 30a ESCs,it absolutely does everything I could expect and more! The only negative thing about this setup is, I no longer care much for flying my other quad ..and it's a great quad but the Skitzo setup is the bomb! BUY THEM! Get some good ESCs and you will never look back!! Promise! P.s. Forget about the cost they're worth every penny!

Beautiful finish, lacking in accesories review by Moosestang on 9/4/2016

I love getfpv, they ship fast, they are right down the street, they put out some great products. I have 3 sets of the skitzo 2204 motors. My major gripe with them is the short motor screws. The ones that come with theses are useless with a 4mm frame. Luckily i have 3 sets of emax red bottoms also, so i have an abundant supply of motor screws. Motors are nice and smooth, look outstanding. I love the design, it's how all multirotor motors should look, short, sleek and smooth, not tall and boxy with sharp edges. I'm not sure ceramic bearings are the way to go, but i thought i'd give them a try, time will tell. The price is kind of nuts, emax are a better value imo, so 3 stars is all you get.

(Thank you for your review! We include M3x5 screws and not M3x6 to prevent 3mm frame owners from shorting their motors out. Most 4mm frames - including our own - include M3x6 motor screws.)

Top of the line motors. Shipped in a broken box. review by Kyle on 8/17/2016

Step up the packaging, paying this much for a motor and having it come in a ripped up box is disappointing. Some may say this is trivial, I kindly disagree.