Lumenier N2O 1500mAh 4S 120c LiPo Battery (XT-60) - 3 Pack Bundle
Lumenier N2O 1500mAh 4S 120c LiPo Battery (XT-60) - 3 Pack Bundle
Select options for stock status
Only left for same day shipping. Order now!
Lumenier N2O 1500mAh 4S 120c LiPo Battery (XT-60) - 3 Pack Bundle
The Lumenier N2O 1500mAh 4s 120c Lipo Battery now comes in a 3-Pack Bundle! The N2O series features Polycrystalline Super Nanotubes technology to bring you the highest-performing batteries for your racing drones.
About this product
Lumenier's most popular batteries are now available in Lumenier Battery Bundles! Save yourself a few clicks (and a few dollars) when you purchase this battery in our new 3-Pack option! Be sure to keep enough power to last you all day by storing multiple charged batteries when you are on the go. Get ready to fly... and let the FPV fun begin!
LUMENIER N20 SERIES
The Lumenier N2O series of LiPo batteries push the limits of batteries by utilizing new high power cell technology. With the addition of Polycrystalline Super Nanotubes, the battery has improved attributes such as higher energy density, lower internal resistance, higher discharge rates, and a longer life cycle.
The Lumenier batteries are compact and lightweight, maximizing your power to weight ratio. Each battery comes wrapped in a black protective shrink with foam padding on the end guarding the discharge and balance cables.
N2O batteries are the highest performing LiPo batteries available today!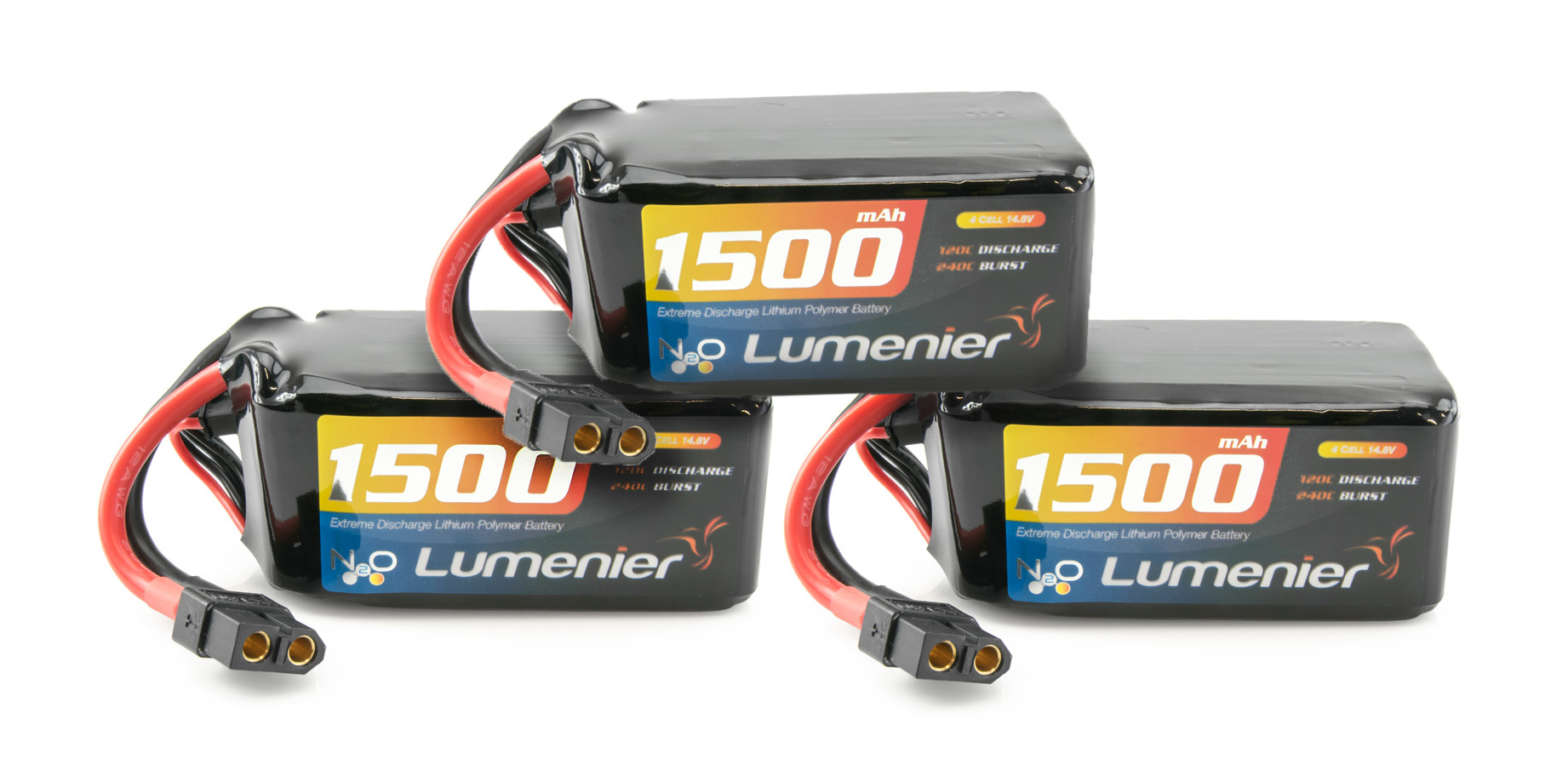 Features
Wrapped in a black protective shrink with foam padding
Maximizes your power to weight ratio
Compact and lightweight
Specifications
| | |
| --- | --- |
| Length | 74 mm |
| Width | 34 mm |
| Height | 37 mm |
| Weight | 185g |
| C-Rating | 120c - Burst 240c |
Includes
3x Lumenier N2O 1500mAh 4s 120c Lipo Battery
More Information
| | |
| --- | --- |
| SKU | 17433 |
| Manufacturer | Lumenier |
| C-Rating | 120 |
| Voltage / Cell Count | 14.8 Volt (4 Cell) |
| Battery Capacity (mAh) | 1500 |
| Item Returns | This item can be returned |