Lumenier ARORA - Professional Light Show Drone

The Lumenier ARORA is the most illuminated drone to hit the light show drone market. The remarkable endurance and 25-minute flight time guarantee an enchanting 25-minute show for onlooking spectators. The super-bright LEDS are six times brighter than other competitors, and our true white LEDs combined with vibrant RGB LEDs provide a more extensive range of colors in the sky for the perfect combination of imagery. The integrated remote power on/off switch allows hands-off startup and shutdown execution - no more scrambling to plug in batteries! The ARORA is highly innovative and engineered for greater durability and weather resistance for protection from the elements during shows. These incredible features make the Lumenier ARORA drones the stars of your next show!
About the ARORA Light Show Drone products
LUMENIER / SPH ENGINEERING COLLABORATION
SPH Engineering (Latvia) and Lumenier (USA) are excited to announce their new collaboration! This new partnership will offer advanced drone show packages featuring Drone Show Software and Lumenier ARORA light show drones, creating a revolutionary opportunity for entertainment businesses across the world. This partnership lays the groundwork for many future co-development projects. When you combine the best drone software available with the best drones available, the sky is truly the limit!
SPH Engineering is a global provider of UAV software solutions, integration services, consulting, and custom development to expand drone applications. Its innovations support UAVs of different manufacturers and advance drone technologies for surveying, data collection, and entertainment. Founded in 2013 in Latvia (EU), the company has a global customer and partner network in 150+ countries. One of the main business lines is Drone Show Software - a technology to manage drone swarm flights, which is compatible with the Lumenier ARORA drones.
LIVING UP TO THE ARORA NAME
The new Lumenier ARORA light show drones are equipped with unparalleled Drone Show Software technology designed by SPH Engineering. The highlights of these drones are the record-breaking show time and the light strobing effect, which left spectators in awe over such breathtaking special effects. These incredible displays help the ARORA live up to its magical name, which references the astrological phenomenon of the aurora lights, as well as the Greco-Roman mythology origin, Aurora (Arora) meaning the personification of the dawn.
SPECIAL EFFECTS AND DURABILITY
The ARORA Light Show Drone by Lumenier offers unprecedented colors, special effects capabilities, and greater endurance with record-breaking 25-minute show times. These drones are manufactured in the United States at Lumenier's facility in Sarasota, Florida. After 10 years of pioneering the drone industry's best motors, frames, antennas, and drones, Lumenier is expanding their footprint with this new commercial light show drone, offering the next revolution in drone show entertainment.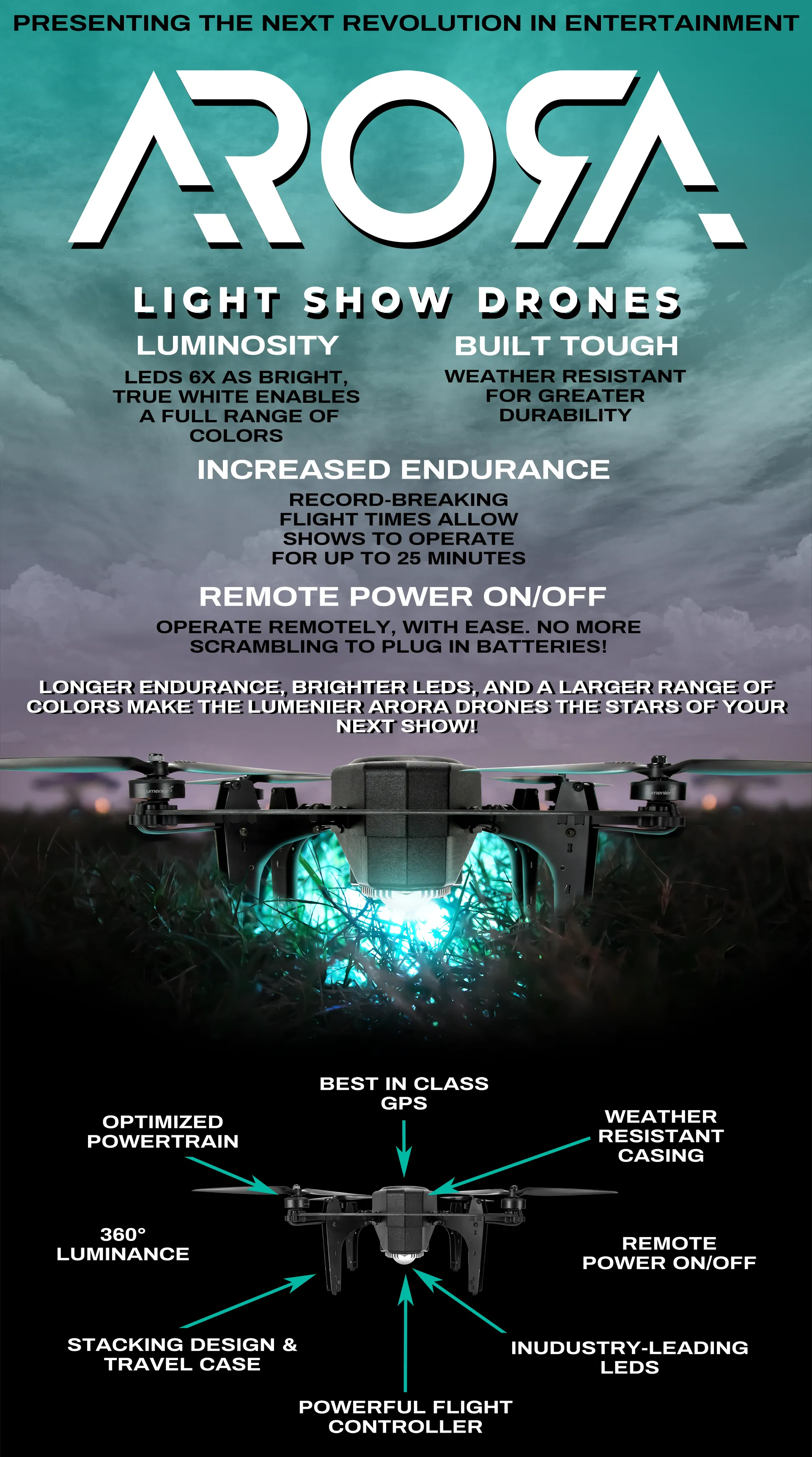 Lumenier ARORA Light Show Drones
Optimized luminosity and brighter LEDs
Built tough with greater durability
Longer endurance at 25 minutes
Larger range of colors
Remote Power-On/Off
Light Show Accessories
The Lumenier Zarges K470 Intermediate BatterySafe™ Aluminum Storage Case provides perfect protection, even under the most extreme conditions. The K470 is ATA 300-approved, lightweight, rugged, and dust and water-resistant. Its durable construction provides optimal protection for any contents. The ZARGES BatterySafe™ Intermediate is designed for the safe packaging and transport of lithium-ion / lithium-polymer batteries. The ZARGES solution is comprised of an aluminum case with a custom lining, which contains an intumescent glass fiber material that suppresses ignition and extinguishes flames. The BatterySafe Intermediate offers all the available features of standard K470 cases, including secure latches, stacking corners, three fully-welded aluminum profile frames, and easy loading and unloading. The cases are appropriate for a variety of uses including defense contractors standardizing battery management, vehicle battery development, medical equipment, and drones.
The Lumenier ARORA Light Show Drone Carrier is specially designed to work in conjunction with the unique stacking feature of the ARORA drones. This portable carrying option offers space-saving protection for safe transport and storage of your drone fleets. The optimized design lowers overhead costs and eliminates guesswork while providing peace of mind that your drones will arrive safely in transit.
The Lumenier X16 Swarm Charger is a portable charging solution designed to be a power source for multiple high-capacity batteries. This battery charging case has been designed for field use with drone fleets such as the Lumenier ARORA light show drones. This case charges up to 16 LiPo batteries simultaneously.
This Lumenier 6000mAh 4S 35C Battery is perfect for powering small aircraft that require a compact battery but need the high amperage that the XT60 connector can provide. This battery is optimized for the ARORA Light Show Drone.
The APC 9×3.8SF-B4 Propeller is a 9" 2-Blade propeller with a 3.8" pitch. This propeller features long fiber composite materials that are more rigid and stronger than glass-filled nylon. Manufactured by Advanced Precision Composites, this propeller comes standard with the Lumenier ARORA Light Show Drone.