Product was successfully added to your shopping cart.
Details

The Lumenier 5x5x3 Butter Cutter propeller is designed for high speed and extreme performance. This unique airfoil provides incredible thrust throughout the entire power-band, and especially the top end. In addition to incredible power potential, the Butter Cutter also has great efficiency. Most high performance propellers suffer from high amp draw to achieve top-end thrust, but the Butter Cutter's advanced airfoil allows for both high performance and good efficiency. These props give you a "locked in" feel while flying and really grip the air while cornering.
The Butter Cutter propellers are made from an ultra-durable, crash resistant polycarbonate material. This allows the propellers to resist breaking in a crash or prop strike. Now you can clip a gate or a tree branch and keep flying! Each blade is 100% balanced direct from the mold as well, giving you a "butter smooth" flight.
FPV Drone Racing and Freestyle flying require high-quality propellers that ensure optimal thrust, efficiency and top-end speed to allow pilots to consistently perform at their best. Lumenier prop design starts from the ground up, considering flight speed, blade RPM and other factors to optimize each profile. Leveraging a proprietary algorithm, each prop has a unique airfoil and blade design, rather than using the same blade and duplicating them on double, triple or quad-bladed props. This leads to subtle, yet important, performance improvements that can mean the difference between a win or a DNF on race day.
Includes
4x 5x5 3-Blade Butter Cutter Propellers, 2x CW and 2x CCW
4x 5mm Prop Adapters
Design. From the ground up.

During the design of any Lumenier propeller, key elements are considered such as blade RPM, motor size and KV, and overall flight envelope. These inputs create operating points such as Reynolds Numbers, Mach, Beta Angles, etc. which are used to guide the design process.
Performance based on Science.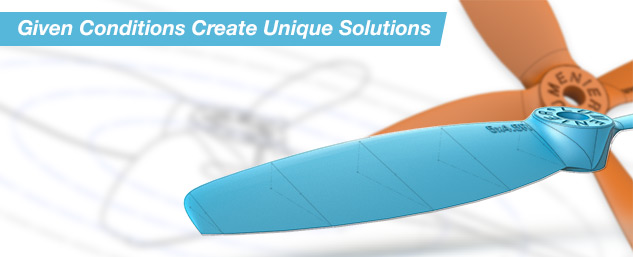 Given the operating points and design goals Lumenier produces unique airfoils leveraging a proprietary genetic algorithm that iterates 10s of thousands of possible airfoils and compares them to each other and also a library of well known existing airfoils. This creates the best possible and most suitable combination of airfoils as well as overall blade design. For this reason, no 2 blades on any Lumenier propeller are the same.
Airfoil design with a purpose.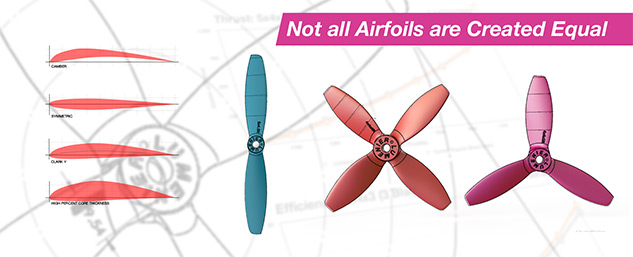 Calculus and proprietary algorithms help translate 2D coefficients of lift, drag, and moment into 3D coefficients that account for high blade loading and near static thrust conditions that a multi-copter will encounter during flight.
Static Thrust Data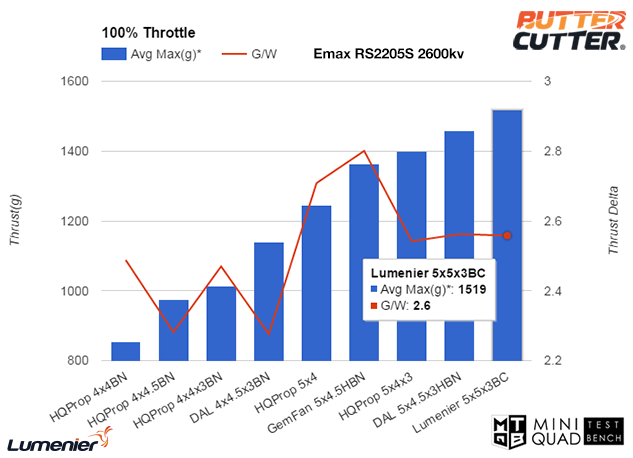 Additional Information
| | |
| --- | --- |
| SKU | 6630 |
| Manufacturer | Lumenier |
| Length | 5" |
| Pitch | 5" |
| Number of Blades | 3 Blades |
| Material | Polycarbonate |
| Weight in Grams | 4.2 |
| Color | Blue |
| Rotation | CW & CCW |
| Hub ID | 5mm |
| Hub thickness | 7mm |
| Includes | 2x CCW Propellers, 2x CW Propellers |
Butter they are review by attomic on 8/4/2017

This propeller its amazing until it touches anything but air. PLEASE PLEASE PLEASE make this prop more durable if you do its all I would buy.

Updating my original review. review by Daniel on 4/16/2017

My original review probably sounded a bit harsh. I do stand by my durability comments, these props may actually be butter, HA. But I did use every prop I ordered and now I'm ordering more. The flight characteristics on my X frame quads are Amazing with these props, feels Far smoother and just as snappy as 5051's. Just make sure you order a bunch, and keep your lines tight. Do Not, Do Not clip a gate, thats a heat ender.

Nice props, Not Ultra Durable. review by Daniel on 4/10/2017

Unfortunately I find these props a bit hype driven. I like them, and I find my quad flies very smoothly with them while maintaining snappy response. However, Ultra Durable? Nope. These things bend if you dive too hard... Im exaggerating, but these props were bending left and right, especially on light crashes or a quick landing.

Sorry Lumi, I love your stuff, but not these.

The best there is. Period. review by MrSatoV on 2/13/2017

I do a lot of prop (and motor) testing and had gone through a lot, while holding to my favorite - the DAL Cyclones. They even sent me their V2 of them at about the same time I got my order of these Butter Cutters (BC). Considering even the radical new Azure Power props were just kind of "on par" with the Cyclones (according to my previous test - a little better after more testing) I really had my doubts if this relatively normal looking prop could oust them. When it came time, these babies blew me away. I am so impressed by them I just can't say enough. Yes, I've tested the "beloved" RK5051, which is good for top speed but not much else - and if you say different, you have not tested all the props I have. The BC props have the crispest response I've felt of any prop, and maintain that feel from low to top speeds. Top speed is VERY good too - only second to the RK5051, but not by a whole lot, and in most cases, you never reach that speed on today's race tracks, which tend to be too small for that.
I almost hate to leave this review here as my own shop doesn't carry them. Yet. ;-)

Wow! New favorite prop review by B94Cast on 1/28/2017

Up until flying these, I have been a fan of the Dal Cyclones. These surprised me - soo smooth at the bottom, with responsive and predictable power throughout the range. Heaps of acceleration up top, but at lower/mid range, feels more like a 5040, nice and smooth. Hard to explain the feel - but its great! Its like having the best of a lower pitch prop and a higher pitch prop all in one super smooth prop. Im curious how the Cyclone V2's will fare against these - will be buying more! Great job!!

Wow!! Very Nice review by RotorDog on 1/20/2017

I was not expecting a lot from these but they really surprised me. The acceleration was outstanding. With my Charpu running RotorGeek 2206 2350KV motors I had a strong acceleration range starting at around 30% and I'm not sure about the top end yet but it seems pretty good as I still have not pushed the stick to the firewall.

The response was also really surprising. It was smooth and not harsh at all. Much better than Racecraft and now might even beat the Strix Props....

These are fantastic props. Looking forward to testing the other Lumenier V2 props I just got!!!
Also Purchased
From: $194.98

To: $782.42

From: $89.99

To: $2,152.82

From: $3.99

To: $2,610.46