Lumenier 300mAh 2S 75c LiPo Battery (JST) - 10 Pack Bundle
Lumenier 300mAh 2S 75c LiPo Battery (JST) - 10 Pack Bundle
Select options for stock status
Only left for same day shipping. Order now!
Lumenier 300mAh 2S 75c LiPo Battery (JST) - 10 Pack Bundle
Lumenier 300mAh 2S 75c Lipo Battery (JST) now comes in a 10-Pack Bundle! The Lumenier LX series of LiPo batteries provide you with maximum performance for your multi-rotor airframes and planes!
About this product
Lumenier's most popular batteries are now available in Lumenier Battery Bundles! Save yourself a few clicks (and a few dollars) when you purchase this battery in our new 10-Pack option! Be sure to keep enough power to last you all day by storing multiple charged batteries when you are on the go. Get ready to fly... and let the FPV fun begin!
LUMENIER LX SERIES
Lumenier LX series of lipo batteries provide you maximum performance for your multi-rotor airframes and planes. This lipo's 75 "C" with 150 "C" burst rating is designed for multi-rotor or plane applications where extreme power is needed.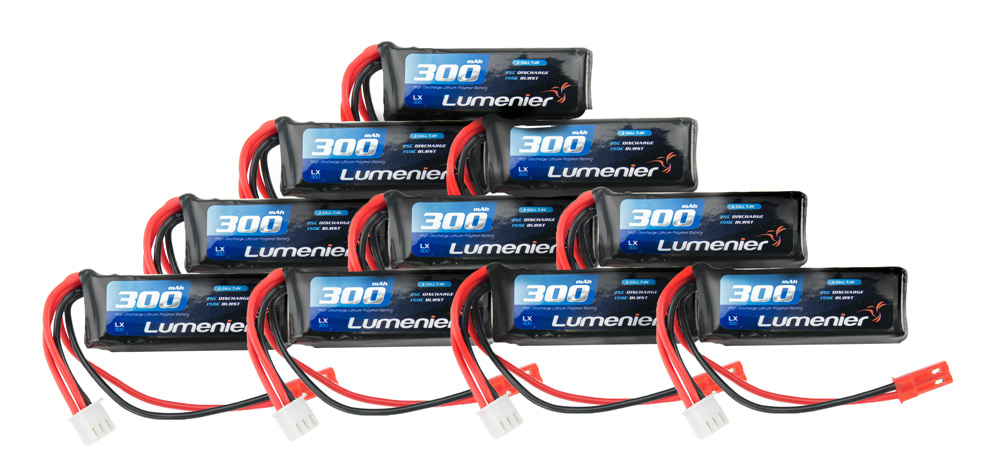 Features
Extra-long JST allows freedom to hook it up where you need it.

300mAh 2s battery is perfect to power small aircraft
Maximizes flight time with minimal voltage sag

All-black battery design
Specifications
| | |
| --- | --- |
| Length | 48 mm |
| Width | 17 mm |
| Height | 13 mm |
| Weight | 18g |
| C-Rating | 75c - Burst 150c |
| Connector | JST Male |
Includes
10x Lumenier 300mAh 2S 75c LiPo Battery (JST)
No Air Shipping
Please note that shipping regulations have recently changed for batteries. We are no longer able to ship lithium polymer batteries via any Air shipping method. This includes all international destinations outside the USA. In the USA, you will only be presented with ground-based shipping options if your order contains a lipo battery. If you need to receive your order quickly and would like to ship with one-day or two-day shipping options, consider splitting your order up into an order of only batteries (shipping ground) and everything else.
Due to IATA shipping regulations, batteries shipping AIR must have a charge of less than 30%. A lithium polymer battery which stays in this state for long periods of time will become damaged. For this reason, GetFPV does not ship batteries using Air shipping.

If you want to ship batteries via air shipping, you can set up an account through our freight forwarding partner MyUS.com. Follow instructions on their website to learn more.
More Information
| | |
| --- | --- |
| SKU | 17445 |
| Manufacturer | Lumenier |
| C-Rating | 75 |
| Voltage / Cell Count | 7.4 Volt (2 Cell) |
| Battery Capacity (mAh) | 300 |
| Item Returns | This item can be returned |