Caddx DJI Digital HD FPV Air Unit Kit
Caddx DJI Digital HD FPV Air Unit Kit
Out of Stock
Only left for same day shipping. Order now!
Caddx DJI Digital HD FPV Air Unit Kit
FPV through the DJI Digital HD Air Unit. The way FPV is meant to be. This is the Caddx DJI air unit with 120fps HD camera.
About this product
The DJI Digital FPV Air Unit is now distributed by Caddxy FPV!
FPV through the DJI Digital HD Air Unit is the way FPV is meant to be. This 5.8Ghz air unit (FPV camera + VTX) provides amazing visual clarity that is able to be transmitted to your DJI Goggles through its built-in receiver module. The DJI FPV Air Unit provides ultra-low latency HD digital image transmission, built-in 1080p/60fps DVR recording, and eight frequency channels to allow up to eight pilots to fly simultaneously.
Digital HD systems have traditionally been rather bulky and unwieldy to mount on a mini quad. Not anymore. With this air unit, you can comfortably fit the module in your mini quad stack (probably not slammed frames). The 'mini' camera fits easily into your existing builds, no weird mounting adapters.
VIDEO: DJI DIGITAL FPV NEW CADDX AIR UNIT - THE DJI REPLACEMENT
Features
DJI FPV Goggles and DJI FPV Remote Controller Compatibility
4-in-1 Integrated Control for DJI FPV Remote Controller
Digital FPV Air Unit now Manufactured by CaddxFPV
28ms HD Low Latency Video Transmission
720p/120fps Video Transmission
1080p/60fps Video Recording
Fly 8 Drones Simultaneously
Anti-Interference
Specifications
Weight

Air Unit (Camera included): 45.8 g
3.9 g (MMCX elbow each)

Dimensions

Air Unit: 44 × 37.8 × 14.4 mm
Camera: 27.4 × 21.1 × 20.1 mm
Coaxial Cable: 100 mm

Operating Frequency: 5.725-5.850 GHz
Transmitter Power (EIRP): FCC/SRRC: <30 dBm; CE: <14 dBm
Min. Latency (end-to-end)

Low Latency Mode (720p/120fps): <28 ms
High-Quality Mode (720p/60fps): <40 ms

Max. Transmission Distance: FCC/SRRC: <4 km; CE: <0.7 km
Video Format: MP4 (Video format: H.264; Audio format: ACC-LC)
I/O Interface: USB-C, MMCX, 3-in-1 port, microSD card slot
Operating Temperature Range: 32° to 104°F (0° to 40°C)
Input Power: 7.4-17.6 V, about 4-9 W
Sensor: 1/3.2'' CMOS; Effective Pixels: 4 M
Lens: 2.1 mm, f/2.1
Shutter: Rolling shutter
ISO: 100-25600
FOV: 150°(D); 122°(H); 93°(V)
Dimension: 22.1 × 21.1 × 20.1 mm
Weight: 8.2 g
Channels: 8
Channels Info

FCC
Channel 1: 5660
Channel 2: 5695
Channel 3: 5735
Channel 4: 5770
Channel 5: 5805
Channel 6: 5878
Channel 7: 5914
Channel 8: 5839
DO NOT use the air unit for an extended period when there is no external cooling equipment. Otherwise, the air unit may overheat and enter overheat protection mode. DO NOT touch the air unit before it cools down.

This air unit requires the DJI Digital HD FPV Goggles in order to work. However, using the DJI FPV Remote Controller is optional. The DJI Remote Controller is useful if you want to use their built-in Tx system.
Keep the air unit away from metal objects or carbon fiber frames. Make sure to choose a position where the transmission will not be blocked during flight. Keep the antennas of the air unit at least 40 mm apart.
12/2/2019 New Firmware update brings a host of updates and new features to the DJI FPV System!
Includes
1x CaddxFPV DJI FPV Camera
1x CaddxFPV DJI FPV Air Unit
2x Antenna (MMCX elbow)
1x Three-in-one cable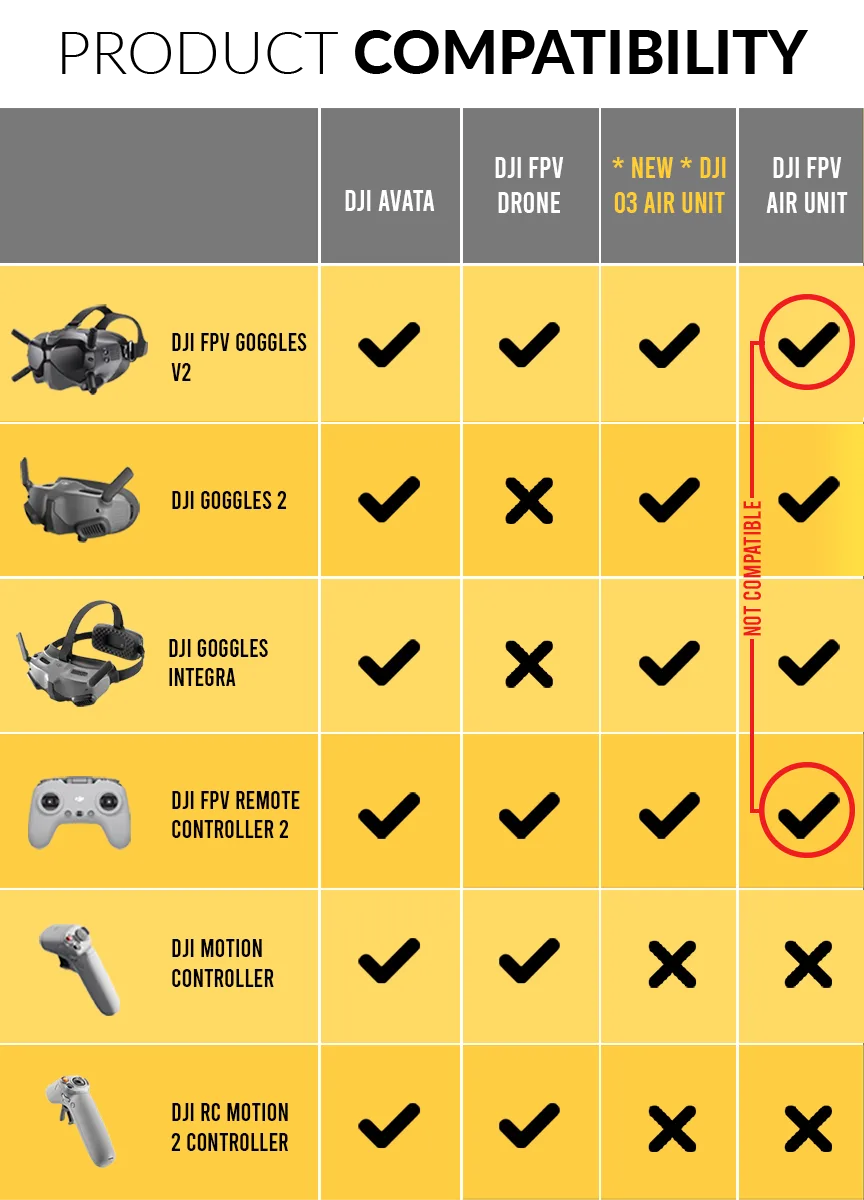 FPV Regulatory Notice
The use and operation of this type of product in the USA and many other countries may require a license and some countries may forbid its use entirely. In the USA, you will need a "HAM" amateur radio license. Learn more about HAM licenses, and find a HAM license exam session in your area. It is your responsibility to ensure that the use of this product meets the requirements imposed by your government's rules and regulations for RF devices. Do not purchase this product if you are unsure of the government requirements or are not able to comply with them. GetFPV cannot be held responsible for your actions if you purchase and/or use this product in violation of your government's regulations. By agreeing to our terms and conditions during the check-out process, you also agree to have read and to understand this notice.
More Information
| | |
| --- | --- |
| SKU | 10821 |
| Manufacturer | DJI |
| Mounting Pattern | N/A |
| Frequencies | 5.8GHz |
| UPC (GTIN) | 190021336292 |
| Item Returns | This item can be returned |