BETAFPV BT2.0 260mAh 1S 30C Battery (8pcs)
BETAFPV BT2.0 260mAh 1S 30C Battery (8pcs)
Only left for same day shipping. Order now!
BETAFPV BT2.0 260mAh 1S 30C Battery (8pcs)
This battery comes with the BT2.0 Connector - the most significant revolution in the 1S tiny whoop drones!
About this product
This battery comes with the BT2.0 Connector - the most significant revolution in the 1S tiny whoop drones!
The BETAFPV 260mAh 1S is the first battery with a BT2.0 connector in the current market. The battery dimensions were made slightly smaller than previous batteries, like the BT2.0 300mAh battery, so this battery only weights 7.16g! Now you can enjoy a smoother flight experience!
Great battery for the 1S whoop drones, like the Meteor65.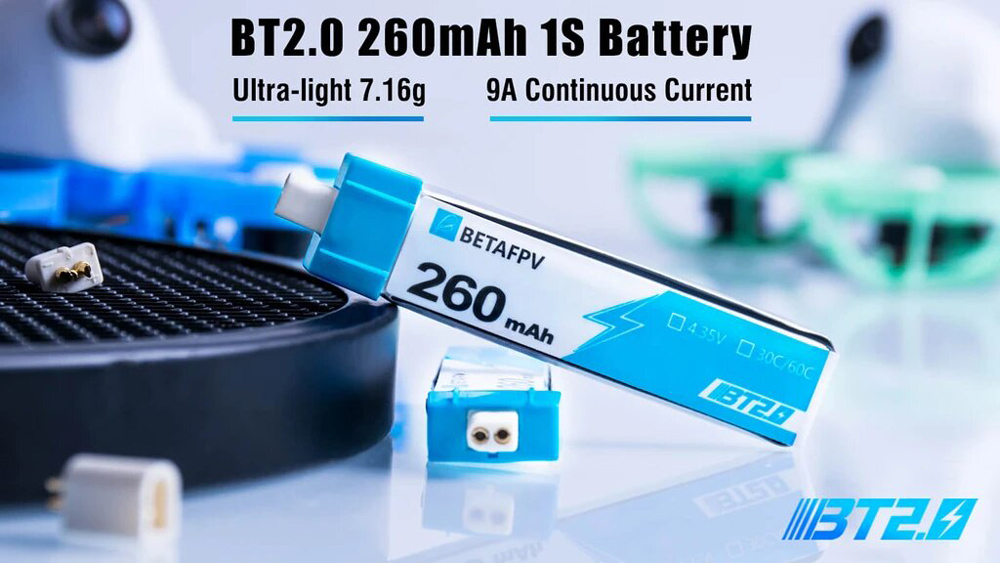 Features
BT2.0 260mAh 1S Battery supports 9A continuous current, while the PH2.0 connector supports 4.5A continuous current. With this BT2.0 260mAh 1S battery, all 1S brushless drones will gain lighter and powerful performance.
By solving the problem of voltage sag, the discharge of the 260mAh 1S BT2.0 lipo becomes more efficient. Pilots can enjoy more flight time without disturbance of low voltage warning.
BT2.0 connector decreased internal resistance of connector effectively by upgrading the crimped pins to 1.0mm banana connector and increasing the cross-sectional area of 1.0mm banana connector.
Compared with the PH2.0 crimped pins, BT2.0 connector is more durable which can discharge more currents in the same capacity and provide far more power.
BETAFPV released BT2.0 charger Board to allow charging 6pcs batteries at the same time.
Comparison of BT2.0 Connector 260mAh / 300mAh 1S Battery
Specifications
Capacity: 260mAh
Rate: 30C/60C
Voltage: 4.35V
Dimension: 56mm * 12mm * 6mm
Connector: BT2.0 connector
Weight: 7.16g(1pcs)
BT2.0 Connector
There is a graph of comparison between BT2.0 connector and PH2.0 connector (solid pins version) in BETAFPV 1S 260mAh battery. The discharge current is 9A in this testing. You could see that it has longer discharge time and improvement in voltage sag with BT2.0 connector, which brings better flight performance.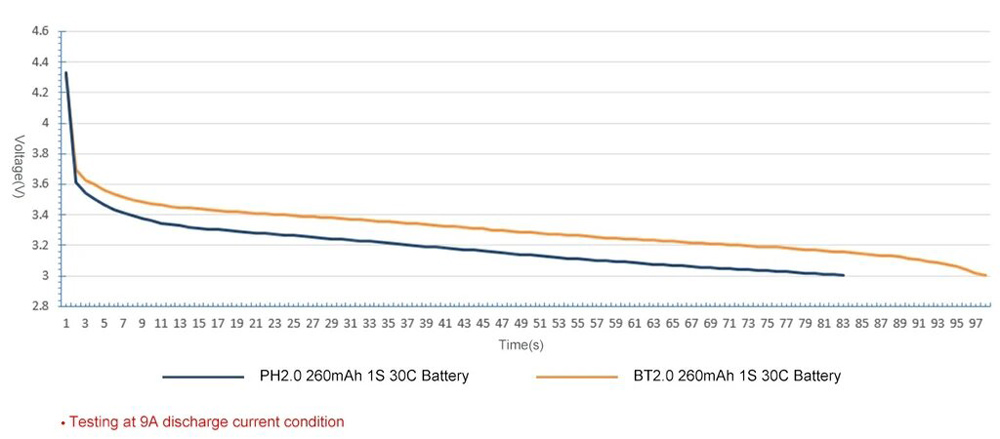 Since February 2019, BETAFPV got some feedback on Facebook about how eager they need the high quality of solid pins connector on 1S whoop drone, so BETAFPV started a long-term investigation on the design of the solid pins and the stable manufacturing technique to meet pilots' demand.
Video
Best Way to Replace Your PH2.0 to BT2.0 Connector
Includes
8 x BT2.0 260mAh 1S 30C Battery
More Information
| | |
| --- | --- |
| SKU | 11950 |
| Manufacturer | BETAFPV |
| Discharge Plug | BT2.0 |
| C-Rating | Not Rated |
| Voltage / Cell Count | 4.35 Volt (1 Cell) |
| UPC (GTIN) | 032733839206 |
| Battery Capacity (mAh) | 2600 |
| Item Returns | This item can be returned |