BETAFPV Beta85X Whoop Quadcopter for GoPro Hero
BETAFPV Beta85X Whoop Quadcopter for GoPro Hero
BETAFPV Beta85X Whoop Quadcopter for GoPro Hero
The Beta85X Whoop Quadcopter for GoPro Hero is packed with a BEC board, case, and an adjustable GoPro Hero mount, so you can easily build a CineWhoop with a GoPro that has minimal weight.
About this product
The Beta85X Whoop Quadcopter for GoPro Hero is packed with a BEC board, case, and an adjustable GoPro Hero mount, so you can easily build a CineWhoop with a GoPro that has minimal weight. This CineWhoop flies excellent on a 450mAh 4s battery, which gives you a quick and stable flight for about 4 minutes.
Best choice for those who are interested in building a CineWhoop for FPV filming.
Note: GoPro Hero camera and battery NOT included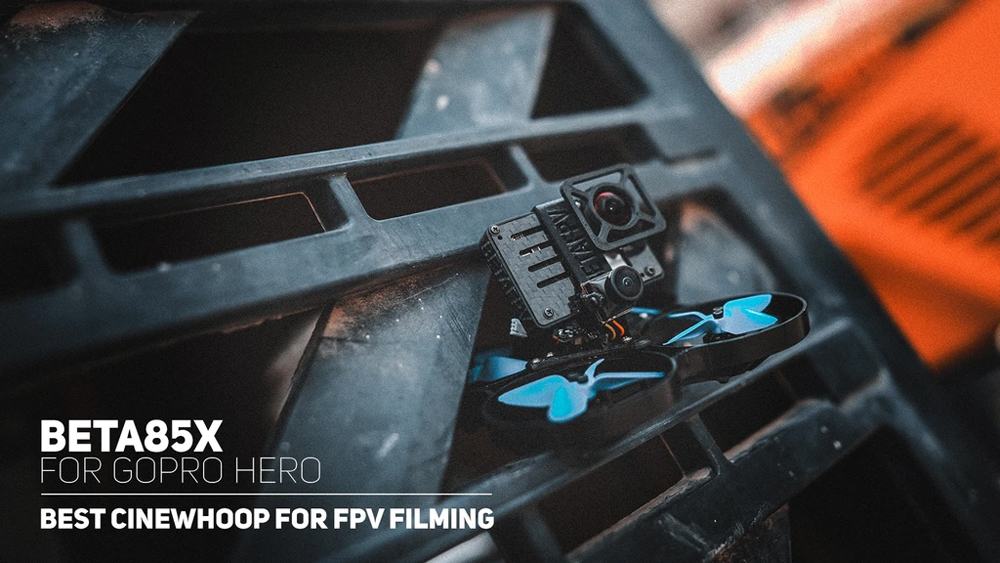 Features
Beta85X comes with a BEC board, which specially designed for GoPro Hero6. Integrated GoPro stock buttons and LED.
Install customized EOS2 V2 camera and A01 VTX,you can enjoy the real-time FPV feds and low RF interference on flight.
Pad is available for pilots to control the GoPro recording via the radio transmitter.
With the pluggable connector, which is easier to connect with your flight controller for power supply and recording.
Equipped with an adjustable camera mount of 0-50° for FPV film shooting. This will be the best choice for building the smallest cinewhoop drone that can carry a naked GoPro6.
Specifications
Item: Beta85X for GoPro Hero
Weight: 67.77

g

(without GoPro Hero or battery)
F4 AIO Brushless FC 12A V2 (BLHeli_S)
Frame: Beta85X Frame V2
Motors:

1105 5000KV Brushless Motors

Props:

2" 4-Blades Props
Receiver Option: Frsky XM+ / TBS Crossfire/PNP
Camera: Betafpv

EOS V2 Camera

Recommended battery: 450mAh 4s 75C Battery (Not included)
85X Cinewhoop with Gopro
In recent months, more and more pilots are interested in the super small, lightweight and powerful cinewhoop. Pilots like Richárd Papp and Tommy Tibajia started their cinewhoop project.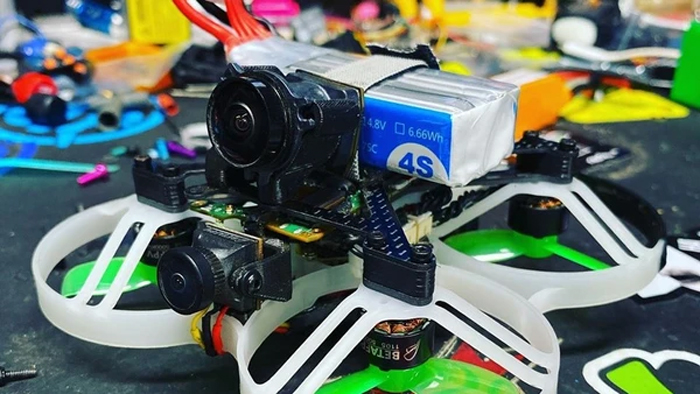 BETAFPV wants to provide the FPV community with a great combo, so they designed a BEC board that workes perfectly with the GoPro Hero 6. With the carbon fiber case and pluggable connector, it is easier to plug in and out. Meanwhile, BETAFPV designed the adjustable camera mount of 0-50°, it can be used for the different flying modes of insane flying or slowing flying.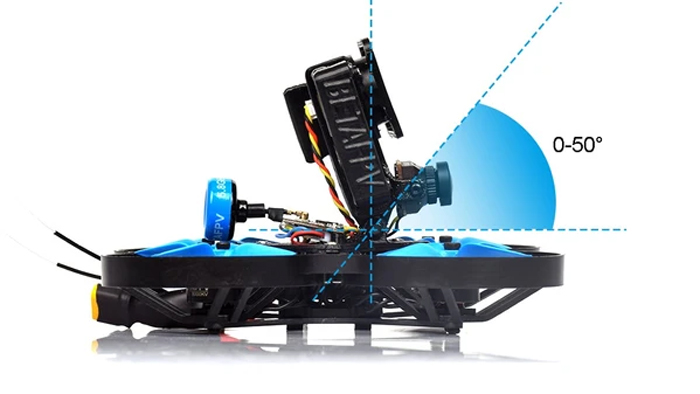 The Idea of GoPro Lite
Based on the discussion of the cinewhoop, BETAFPV designed a BEC board and a fitting case for the GoPro Hero 6/7, to make it as a whole GoPro Lite camera. With a pluggable connector and that is lightweight 29g, it is easier to install your CineWhoop for FPV filming.
So what is so special about the BEC board? It is integrated with the 5V@2A BEC, the stock GoPro buttons, LED and a remote for recording, solving the problem of the unstable power supply and redundant FPC connect way. The current BEC board fits for GoPro Hero 6 and Hero 7 Black.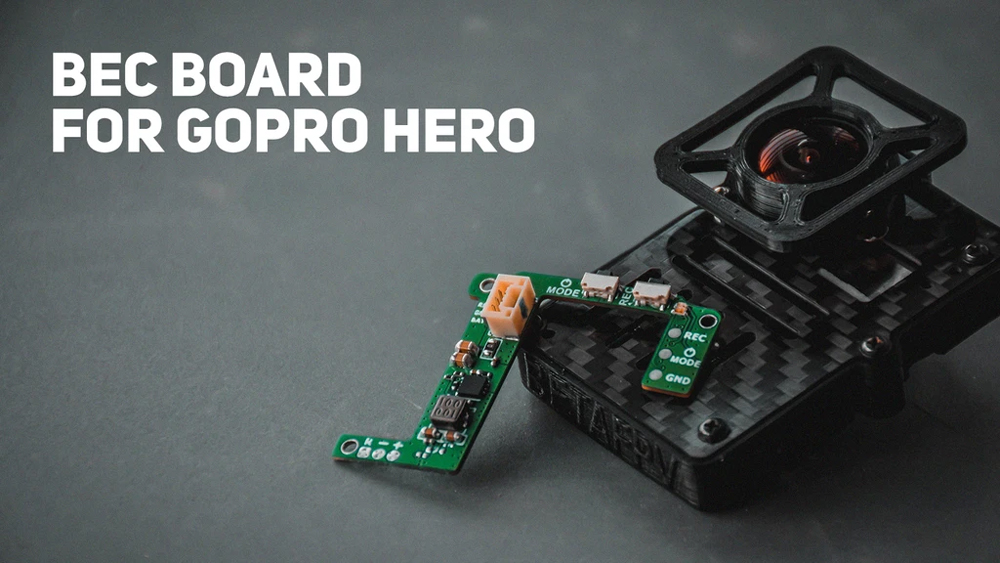 How to Setup Remote Record
Pilots could use the switch on their radio transmitter to start/stop records; however, some more configuration needed.
For example, if you use an F4 FC V2.0 on your drone, like the 95X whoop drone, the connection diagram is shown below. The yellow cable (FC B12 pin pad) is just for the remote record.
BETAFPV use the Pinio function in Betaflight to control record. First, setup the Pinio function of the B12 pin in the FC board.
resource FLASH_CS 1 NONE
resource PINIO 1 B12
set pinio_box = 40,255,255,255
save
Next, map one of the switch channels in your radio transmitter to this Pinio (aka USER1). As shown below, we map the AUX4 channel in the radio transmitter to USER1 Pinio. The cursor in the orange zone means button released and white zone means pressed. So keep the cursor in the orange zone in default.

Third, check if the Pinio function works. Change the switch and make the cursor move from the orange zone to the white zone, and finally back to the orange zone. Now you could check the LED status to know if the record starts. Use the same process to stop recording.
If you use the 12A F4 AIO FC board, like the 85X whoop drone, you will use the LED_STRIP pin (aka A08 pin pad) for the Pinio function.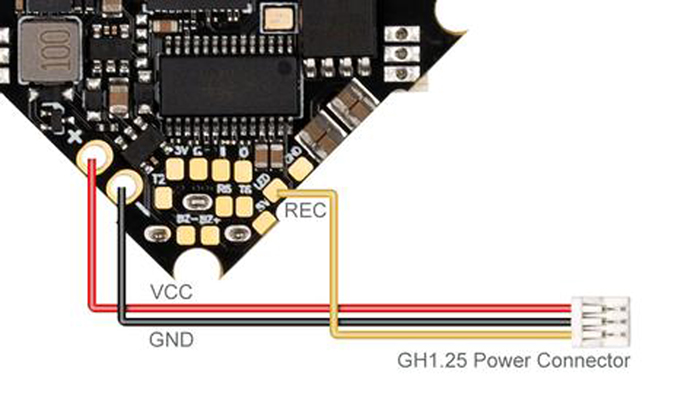 resource LED_STRIP 1 NONE
resource PINIO 1 A08
set pinio_box = 40,255,255,255
save
Includes
1 x Beta85X for GoPro Hero
1 x BEC Board for GoPro Hero
1 x Case for GoPro Lite Camera
1 x GH1.25 Power Cable (80mm 30AWG)
1 x Pack of Screws
More Information
| | |
| --- | --- |
| SKU | 13380 |
| Manufacturer | BETAFPV |
| Item Returns | This item can be returned |