TBS Oblivion PNP 5" Quadcopter
TBS Oblivion PNP 5" Quadcopter
Only left for same day shipping. Order now!
TBS Oblivion PNP 5" Quadcopter
The first ever injected composite polymer unibody racing drone. Race ready, 75mph top speed and up to 11 minutes flight time out-of-the-box.
About this product
Team BlackSheep has come up with the first-ever injected composite polymer unibody race quad! With out-of-the-box speeds of up to 75mph and 11 minutes of flight time, this quad is something to take seriously! The one-piece construction is nonconductive so you don't have to worry about any shorts, it also has the benefit of being more affordable than carbon fiber which means this quad won't break the bank!
PLASTIC IS FANTASTIC
Built from a virtually unbreakable custom material mix that not only protects all of your electronics but also maintains its shape after impacts. The manufacturing process has been a tedious research process and a careful balancing act between rigidity, durability, and weight. The end result is a sleek looking, highly aerodynamic, ultra-durable racing-, long-range or freestyle drone that will not disappoint!
BEGINNER FRIENDLY
From box to air in 5 minutes, without using any drone-racing lingo? That is the promise of both the RTF and the complete set version of the TBS Oblivion! The Velocidrone FPV simulator has the model pre-built inside, so you can practice from the comfort of your couch before putting the real drone at risk!
MODULAR DESIGN
The entire drone is built from countless self-contained parts working together hand in hand for a unified user experience. With just the right amount of exposure to the inner workings of a modern racing drone, anyone can start their adventure into this amazing hobby, replace parts and repair their drone without soldering, push their limits as pilots and fly through the sky like a bird hellbent on adventure!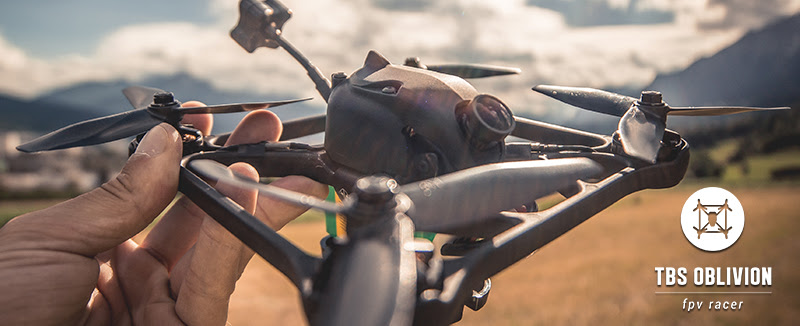 Features
Flight Time: 3-4 mins typical, up to 11mins with 1300mAh 4S.
Weight: 315g w/o battery
Motors: Viva FPV 2207 2650KV
Battery: 4s LiPo 1300mAh - 2200mAh
Propeller: HQ 5×4.5×3 V3 Tri-Blade propellers
Flight controller: TBS Colibri F3 with BetaFlight 3.3
ESCs: BLHeli-S Multishot TBS PowerCube 20A 6S ESC's
Camera: TBS Oblivion 650TVL FPV Camera
Video Transmitter: TBS FPVision
Receiver Compatibility: CRSF, S-Bus, Spektrum™ compatible
Includes
1x TBS Oblivion PNP
1x TBS Oblivion HD Canopy
1x HD Camera Strap
1x GoPro Hero-style camera mount + Holder
1x GoPro Session-style camera mount
1x Motor Holder
1x Prop Tool
1x TBS Oblivion Dog's Rocket
2x HQ Durable Prop Poly Carbonate Set of 4 5x4.5x3V3 - Light Grey
More Information
| | |
| --- | --- |
| SKU | 8415 |
| UPC (GTIN) | 741587426318 |
| Manufacturer | Team BlackSheep |
| Item Returns | This item can be returned |