GetFPV POPO Prop Swap Challenge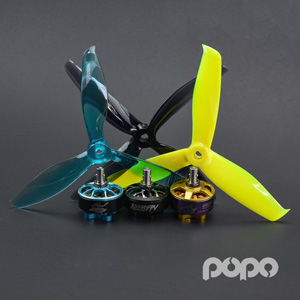 The POPO Prop Swap Challenge will see who has the quickest hands in the industry! We know changing props is an almost daily occurrence with FPV. Put all of that practice to use with the POPO Prop Swap Challenge from GetFPV!
Contestants should record a video of changing all four propellers on a drone (quadcopter) with the aim of doing it as fast as possible while still installing them safely and ready for flight.
See how you stack up against pilots from across the world and win prizes for the fastest times with the Grand Prize being a $100 GetFPV Gift Card!
Visit, like, share, and comment on our social media posts using the link provided to be entered to win other great prizes as well! https://gleam.io/H5JWe/getfpv-popo-prop-swap-challenge
Wait, What is POPO?
What is POPO you ask? It's a quick-swap propeller technology that allows changing props in seconds! Check our POPO page if you are out of the loop!
Rules
No drone should ever be powered or armed while changing propellers. Safety first!
Entry videos must clearly show the drone and all motors while installing propellers.
Contestants may use POPO OR non-POPO motors if they want to compete with traditional propellers and prop nuts. (If you got the guts!)
Contestants must start with 4 propellers already fully installed. Then they must remove those 4 props and place a new set of 4 props onto the motors. The new set of props must be locked in as if ready for flight, not just set onto the motor shafts. If using POPO gear, this usually means an audible click sound and the POPO shaft releasing back to its normal position. If using prop nuts, the nuts must be tightened enough to prevent a prop from slipping.
Props must be sized between 3"-7" and mount on a standard 5mm motor shaft. No tiny whoop props or props mounted unconventionally allowed.
Videos must show some type of timer/stopwatch on the screen to show time elapsed. Using a smartphone with a stopwatch is a quick and easy method.
Videos must be recorded in real-time, no editing the playback speed of the video in any form.
The fastest full change of all four propellers wins! Feel free to do as many takes as you want to get your best time!
Winner will be chosen by GetFPV staff. GetFPV has the sole discretion to verify all videos for accuracy and if the challenge was done as intended. (Example, if props are placed on the shaft without properly tightening them or locking the POPO mechanism in place, that would be grounds for disqualification. If the video submission is not clear or no timer is visible this would also be grounds for disqualification.)
Contestants must post all video entries on the social media of their choice (Facebook, Instagram, or Twitter) with #POPOChallenge so we can track submissions. Winners will be notified on social media and email if provided.
Prizes
Video Submissions
(2 Winners) Grand Prize - $100 GetFPV Gift Card
(2 Winners) Second Prize - Set of 4 POPO Motors (Bardwell, or Chief) ($100 value)
Social Media Prizes on Gleam App
(2 Winners) Second Prize - Set of 4 POPO Motors (Bardwell, or Chief) ($100 value)
(2 Winners) Third Prize - SonicModell AR Wing