Product was successfully added to your shopping cart.
Details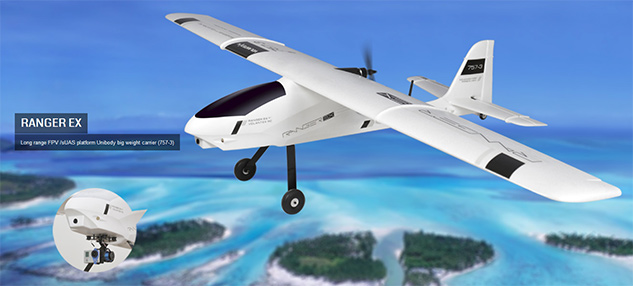 The Ranger EX by Volantex is a FPV specific RC airplane with a huge 77" wingspan. This Plug 'n Play version comes preloaded with all the gear you need to get in the air including servos, ESC, powerful motor and prop. The Ranger EX comes fully packed with tons of features like custom PVC fuselage, landing gear, durable EPO foam wings, tons of camera mounting options, and a huge cargo bay for holding batteries, electronics and more!
The Ranger EX is specially designed for Long Range FPV and quick, easy, trouble free setup. This big bird offers great qualities that every FPV pilot looks for in an RC FPV Plane. The tough PVC fuselage makes the plane very durable, and leaves lots of extra space inside. The large payload capacity means it can handle a higher capacity battery for longer flights. Easy gimbal mounting for ultimate stability of in-flight video. Easy assembly in just a few steps, with no glue required. The wing can be detached quickly and easily for transport and storage.
FPV System Deployment
The Ranger EX is specialy design and optimized for long range FPV with lots of space for mounting systems and multiple camera mounting options.
Features
A very large and durable PVC fuselage makes this plane very crash resistant.
Tons of open space to let bigger hands do their job inside the fuselage when it comes to mounting the electronics inside and all the extra room makes it possible for to mount more gear inside and keep everything neat.
The ability to carry more payload means you can mount higher more/larger batteries to get ultra long flight times needed those long range FPV.
Tall landing gear and a steerable tail wheel means you can now safely take off and land from ground. No need to hand launch a big heavy plane with all your gear.
Easy mounting of various brushless gimbals for GoPro 3 under the nose, now you can take incredibly stable flight videos of your long range flights.
Super easy setup and a glue free assembly.
Transportation is easy with the Ranger's 2 piece design; Fuselage and Wings detach quick and easy for transportation and storage, and quick attachment on field for flight.
Awesome flight performance with the efficient high wing design and giant payload capacity.
Specifications
| | |
| --- | --- |
| Wingspan: | 1980mm (77.9 in) |
| Overall Length: | 1170mm (46 in) |
| Flying Weight(without battery): | 1500g |
| Prop Size: | 1060 Propeller |
| Motor Size: | 3715 powerful outrunner brushless motor |
| Speed Control : | Easy-Plug 40A Switch-mode BEC brushless ESC |
| Servo | 9-gram Servo * 6pcs included |
| Recommended Battery: | 11.1V/14.8V 3300mAh ~ 10000mAh LiPo |
| Charger: | Included |
| Flaps: | Yes |
| Retracts: | No |
| Minimum Age Recommendation: | 14 years |
| Experience Level: | Beginners ~ Expert |
| Recommended Environment: | Outdoor |
| Assembly Time: | Less than half hour |
| Is Assembly Required: | Yes |
Videos
Watch the video of the unboxing and overview by Stone Blue Airlines.
Read the in-depth review of the Volantex Ranger EX at RCGroups.com.
Includes
Volantex Ranger EX Kit
Gimbal with protective dome
2S 1000mah battery (for gimbal)
35W 3A Charger
Additional Information
| | |
| --- | --- |
| SKU | 2113 |
| Manufacturer | Volantex |
My First FPV Airplane review by Francisco K on 8/4/2015

I normally fly FPV with my quadcopter, but due to limited flight time I can't enjoy it for very long. When I first heard about the Ranger EX and all the positive feedback from the FPV and RCGroup communities, I immediately went and bought one from GetFPV.

The airplane is huge, there's a lot of room inside of the fuselage for putting lots of gear and batteries for longer flights. Currently, I am using a 4s 4500mah battery that gives me around 15 minutes of flight time or more, depending on how the throttle is managed. The stocked motor was upgraded to an EMAX GT Series Motor GT2826/04 1090KV and the ESC to a 100amps from Castle Creations.

Assembling the airplane was straight forward and the manual was very easy to follow. One thing I would highly recommend is to laminate the wings for extra rigidity and replace all hinges on the control surfaces. During the maiden flight, I noticed that the main wings flexes a lot, for that reason I installed an additional tube.

Moreover, I heard from lots of users in the community reports that, this airplane has a tendency of rolling and yawing during take off. Personally, I did not experience any of that. The airplane rolled down the runaway in a straight line, without any yawing or banking tendency at all. Its a great airplane to fly, the challenging part is landing it, it likes to float a lot in the air, so make sure you have a big field and runway.

In short, The Ranger EX is a very well built aircraft, with plenty of internal space for installing equipment and for carrying out all types of missions. Highly recommended.

Super review by Myroslav on 3/16/2015

Super LR FPV model !

Great Platform review by Mondo on 3/2/2015

Simple to put together but focus and improve on some weak points. The QC is just average at best when they designed this plane but once you make your own improvements this FPV platform is hard to beat. What an amazing flyer. I will be buying another one shortly.

Big Beautiful Bird review by runnynoze on 2/10/2015

I ordered many things that day and this plane was first to arrive. Very fast delivery and zero damage. This bird is huge. I will be building it for awhile as, I wait for my gyros and lipos. Definitely order 4.5inch wheels for this beast. I would recommend this vendor for quality products, smooth transactions and fast, fast, fast delivery!

Great First Plane review by Jeff on 1/17/2015

This is my first venture into fixed wing aircraft. It was easy to assemble, and somewhat easy to get setup to fly. I will not criticize the product for my lack of experience in flying, but this particular air frame is very forgiving. Two things to add, there should be an option to have the wings laminated prior to arrival and anyone selling the plane should maintain a stock of spare parts such as wings and such. Finding replacement parts has been a bit frustrating. I would recommend this plane to anyone who is entering the fixed wing hobby.
"Free Shipping" Not Available
Please note that due to the size and/or weight of this product, we can not offer "Free Shipping" for orders containing this product.
Also Purchased
Regular Price: $59.99

Special Price $49.99