Product was successfully added to your shopping cart.
Details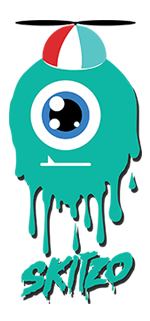 The Lumenier QAV-SKITZO Dark Matter FPV Freestyle quadcopter is a symmetrical X, ultra-durable, finely tuned airframe designed for high performance FPV Freestyle flying. The QAV-SKITZO was created in collaboration with and named after the flow master himself SKITZO FPV. This freestyle airframe has been designed from the ground up to withstand the rigors of freestyle flying pilots like Skitzo put their airframes through.
The QAV-SKITZO features premium Lumenier carbon fiber with a beautifully finished chamfered edge, giving the quad a sleek look while also improving the durability by removing hard edges. Each plate is sealed with a layer of clear coat paint further strengthening each piece and giving it an awesome finished look. No rough edges or carbon dust to worry about, and no sanding required.
The airframe features removable 4mm carbon fiber arms and 3mm thick top and bottom plates. The arms are sandwiched between the bottom plate and 2mm battery plate giving you an incredible 9mm thick of carbon fiber at the center of the body. Each arm is secured in place with just 2 screws and a threaded aluminum bar on top. This allows you to remove 1 arm by simply taking out 2 screws with just 1 tool.
Not only does this airframe fly amazingly, but it looks great too with Skitzo's original astro-photography featured in the custom sticker sheets. Each QAV-SKITZO kit comes with a complete airframe sticker set showing off some stellar space photography shot by Jonathon himself. Pair these graphic frame stickers with the included custom purple spacers for a truly cosmic look!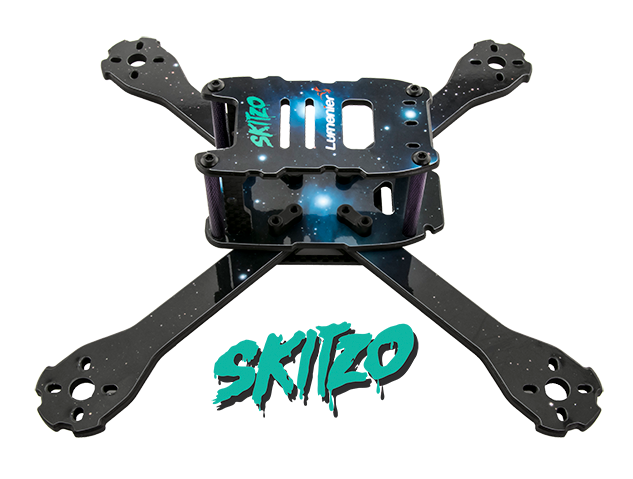 Each 4mm arm and plates are CNC milled out of a solid sheet of premium Lumenier carbon fiber. The outer weave of the carbon fiber runs 100% down each arm of the QAV-SKITZO (0/90 weave), maximizing the strength of the carbon and arms. The center layers are offset at 45 degrees providing even and balanced strength throughout the entire plate.
The top plate includes two accessory antenna plates, allowing for multiple cable ties to lock down your antenna in place, or vertically mount your VTX and SMA connector. No more damaging the SMA connection on your VTX. Alternatively you can use the vertical antenna plate, enabling a vertical VTX install on the tail. The top plate also has a cutout allowing access to your VTX button and LED displays for easy channel adjustment. The 3mm top plate has multiple notches along the side making it a versatile mounting plate for a variety of HD camera mounts.
The airframe comes with high quality aluminum hardware. All screws are premium, black oxide steel. The spacers have a textured grip surface treatment, which facilitates holding of the spacers during assembly and servicing of the airframe. The spacers are 35mm tall giving you plenty of room for all the electronics to be protected inside.
Included with the QAV-SKITZO kit is the popular Lumenier 4Power power distribution board which can be fitted with an optional Pololu voltage drop-down circuit (to 12v or 5v), a XT60 pig-tail. Like the QAV-X and QAV-R, the QAV-SKITZO kit enables mounting of small FPV cameras such as the Lumenier CM-650 in a fully encased assembly which protects the FPV camera during crashes and enables pointing the FPV camera at a wide variety of viewing angles.
Features
Full 3K Carbon Fiber airframe with removable 4mm arms.
Ultra durable 3mm top and bottom plates
Custom Skitzo decal sticker sheet
Compact size for 5" propellers, 214mm motor to motor.
Black Oxide steel screws
Easy grip purple anodized spacers
"Bumpers" on the end of the arms to protect the motor during a crash
Included Lumenier 4Power power distribution board and XT-60 Pig-Tail to power ESCs and FPV flight electronics. The PDB can optionally be outfitted with a Pololu 12v or 5v voltage step-down (Pololu board not included).
Designed around popular 26mm sized cams in cases such as the Lumenier CM-650 or HS1177.
Lightweight and rigid
Weight
Airframe: 96g (airframe + hardware), 100g (with sticker decal).
Includes
1x QAV-SKITZO Dark Matter FPV Freestyle Quadcopter

4x 4mm carbon fiber arms
3mm carbon fiber top plate
3mm carbon fiber base plate
2mm carbon fiber bottom plate
1.5mm carbon fiber antenna plate
1.5mm G10 vertical antenna mount
1.5mm carbon fiber side rack plate
2x 2mm carbon fiber camera sidewall plates

1x Skitzo Dark Matter Airframe Sticker Sheet
1x Set of black steel screws and aluminum hardware including knurled spacers, cable ties
2x No-slip silicone battery pad
1x Lumenier 4Power Power distribution board
1x set 6mm black polyamide spacers / screws for flight controller
1x XT-60 Pig-Tail
1x Neoprene foam tape
1x Lumenier small lipo strap
Optional Accessories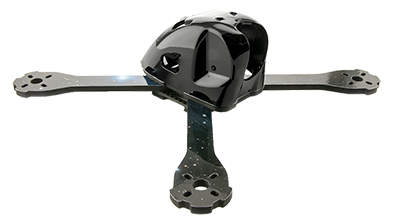 The QAV-SKITZO airframe is compatible with the Lumenier Race Pod Cover. Replace the top plate and spacers with this aerodynamic racing pod.
Social
Join the online discussion about the QAV-SKITZO at RCGroups.
Videos
Build and Overview video by Skitzo
"Lumenier" and "QAV" are registered trademarks of FPV Manuals LLC DBA Lumenier. Patents Pending.
Additional Information
| | |
| --- | --- |
| SKU | 6703 |
| Manufacturer | Lumenier |
Great Little Frame review by Kodi on 9/17/2017

I built my first quad on this frame using KISS FC and 24A ESCs. It flies AMAZING on the stock PIDs, which I find incredible. It's very durable. I fell from about 40 ft up with no damage. My only complaints are that the camera seems to mount very far forward and is susceptible to damage, and the stickers are all peeling around my motors because dirt has gotten underneath in crashes. If I were to build it differently again, I would forget about putting stickers everywhere except for the top plate. All in all this is a great quad and I'm happy with the purchase!

Amazing review by C on 6/28/2017

This frame is incredibly strong. I have yet to break an arm, but I did manage to bend the bottom plate and one of the aluminum standoffs in a head on collision at about 30mph with a tree trunk. Surprisingly the bottom plate bent itself back and I am still using it after 3 months.
I would recommend getting an extra set of standoffs, and longer screws for mounting the top and bottom plates.

Love this frame review by Hawk_FPV on 3/30/2017

This is not a cheap frame but it is worth every penny. The carbon is very high quality and is finished better than any other frame I have ever purchased with chamfers around all the edges. It's super durable which is very important to me as I crash hard a lot and fits together perfect. Not to mention it looks awesome!

Awesome build review by michael on 3/3/2017

pretty straight forward build, ended up going with the sticker bomb decals. looks amazing! paired this with the lux v2 and 35A 4in1 ESC and skitzo edition motors, went together perfectly. flew super smooth without messing with the PIDs.

A very good frame, but has some issues. review by Kelsey on 3/2/2017

This is a pretty quality frame, it definitely looks sleek and it flies very well. But it has some issues and features I don't like. The main feature is the camera mounting puts the camera too far forward causing it to take more damage on crashes(maybe a tpu camera mount may add a little protection). The mounting system for the FC is good, but it doesn't allow easy mounting for things like the TBS Powercube Elite or any thing that has to mount from the bottom. The final factor is the arms. Though they are nice and lightweight they are pretty strong, it took falling 50 feet on to asphalt to crack one of them, which I thought was pretty good. But they give no motor protection, cause me to but 2 motors.


Also Purchased
Regular Price: $44.99

Special Price $39.99