Product was successfully added to your shopping cart.
Details
Lumenier brushless multirotor motors were designed to give you top of the line performance and value for your RC models. This Lumenier RX2204-14 2300Kv motor has been engineered from the ground up, and it is the perfect blend of elegant design and high end performance. By using high quality bearings and CNC precision machined parts, each Lumenier motor provides silky smooth, reliable power.
The Lumenier RX2204-14 2300Kv motors have a strong 3mm internal shaft which has been machine pressed into the upper bell of the motor. No longer is there a need for set screws that loosen over time. The motor features an integrated 5mm threaded prop adapter allowing you to directly mount the propeller to the motor without the need of a separate prop adapter, saving you weight. An ultra-lightweight, black anodized, low profile, flanged aluminum lock nut is also included with each motor ensuring your propellers do not come loose during flight. Each motor comes with 4x M3x5 socket cap screws for mounting on most airframes. The motor wire length is 100mm and includes pre-soldered male 2mm bullet connectors for easy installation. Alternatively, you can also simply cut the motor wires to the desired length and directly solder them to your ESC.
Includes
1x Lumenier RX2204-14 2300Kv Motor
1x Lumenier M5 Black Aluminum Low Profile Lock Nut (CW)
4x M3x5 Socket cap screws
Specifications
| | |
| --- | --- |
| Kv | 2300 |
| Configuration | 12N14P |
| Windings | 14 turn DLRK |
| Termination | D (Delta) |
| Stator Diameter | 22mm |
| Shaft Diameter | 3mm |
| Motor Dimension | 27x15mm |
| Weight | 23.3g |
| Idle Current @12.6v (Io), @16.6v (Io) | 0.58A, 0.63A |
| Cells (LiPo) | 2-4S |
| Max Continuous Current (A) 60s | 15A |
| Max Burst Current <10s | 30A |
| Max Continuous Power (W) 60s | 190W |
| Max Efficiency Current | (2.2-6A) 80% |
| Internal Resistance (Rm) | 260mΩ |
| Motor Wire Length | 100mm |
| Motor Connection | Male 2mm bullet |
Static Thrust Data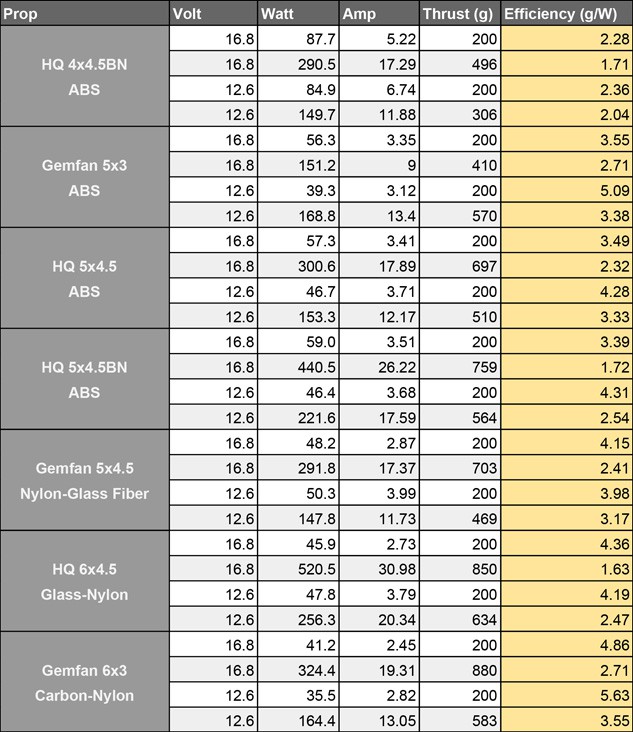 Video
Additional Information
| | |
| --- | --- |
| SKU | 3052 |
| Manufacturer | Lumenier |
Powerful review by Joshua on 11/18/2016

I have use these on all my quad builds and they are amazing. Plenty of power, very strong motors. I have had my fair share of cash and burns and they are still going.

sweet motors review by Lelio on 3/1/2016

very smooth and very powerful, nice finish, much nicer winding next to any t-motor and also very light!

My New Motor Of 2016!!! review by HallyFPV on 1/12/2016

Amazing motor, very high quality bearings and those windings are pristine. Night and day compared to Cobra motors!



Light, and smooth review by Stickman on 11/16/2015

Bought a set of these and put them on my QAV250. They are very light and smooth. Delivering power with a quiet smooth linear acceleration that makes your quad more predictable. They are worth the price. Running them on RG12A with 5045 bullnose props.

Great motors review by Radu on 11/13/2015

I have been using these in conjunction with Littlebee 20A escs and BLHeli 14.2, and they are great. Very smooth, quiet (compared to Cobra 2204/2300), really nice finish/machining, good thrust, and overall a great feel. Less vibey than the CM 2204/2300, which obviously makes for less chances of jello in your videos especially at 30fps.

Very pleased review by Shiftaee on 11/9/2015

I bought these motors for my first quad build. I built a zmr250, fully loaded it weighs in at just under 550 grams including battery. I run 4s with an 1800mah battery. I run the mini 20amp lumenier escs with this setup. This rig absolutely screams. I fly fairly mildly using 5x4.5 props. I am getting 8-9 minute flight times which i feel is pretty amazing. I deffinately recommend these motors for your 250 quad build, i havent tried them 3s but i am confident they would run well at 3s too.

Awesome Motors!! review by JayoFPV on 11/4/2015

I recently put these on my QAV210 and they are performing very well. The durability is awesome! I have been underground racing (Parking Garage) and took some very hard hits to the cement and they are still good as new. Thanks lumenier!

awesome motors review by frank on 11/1/2015

these motor are sweet not only do they look good but they preform just as good as the Cobras if not better, now if only they were priced the same, none the less awesome motors

very impressive motor review by Rodger on 10/29/2015

ive been flying these for about three weeks now and all i can say is cant wait too buy onother set with mini 20 amp lumenier escs .these motors perform very well 5x4 as well as 6x4.5.little longer flight times on the 5x4s with just as much punch and thrill factor. i would like to see changed is the offering of ccw threads but not a big deal with the lock nuts. great job guys

Very Happy with my purchase review by Rodger on 10/18/2015

Bought a set of these and paired them with the lumineir mini 20 amp esc's mounted them on custom sized flyduino frame 280 mm m to m. This this is a freaking sick little beast with this setup on 6x4.5 gemfans. Motors and esc's cold to the touch on 3 cell 2250 35c after flat out flying. Very happy.

Awesome Motors review by Michael on 10/15/2015

So Ive always used T-Motors and figure I give the new Lumenier 2204-14 2300kv. When I received them I was like OMG!!!. The machining perfect. The motor are super light and pack a punch.
I did have one crash with them and damged one motor. Hit a tree then the quad landed right on the motor and bent the bell.
Not sure if T-Motors & Cobra motors are strong. But the Lumenier are crazy light. Making your machine lighter
I would recommend these motors. I'm definitely getting more motors.


Also Purchased
Regular Price: $23.99

Special Price $9.99

From: $111.92

To: $199.92