Long Range FPV Quadcopter Raggio Lungo ARF
Long Range FPV Quadcopter Raggio Lungo ARF
From $13.93
To $883.68 Regular Price $893.68
Select options for stock status
Only left for same day shipping. Order now!
Long Range FPV Quadcopter Raggio Lungo ARF
Why Fly Long Range FPV?
About this product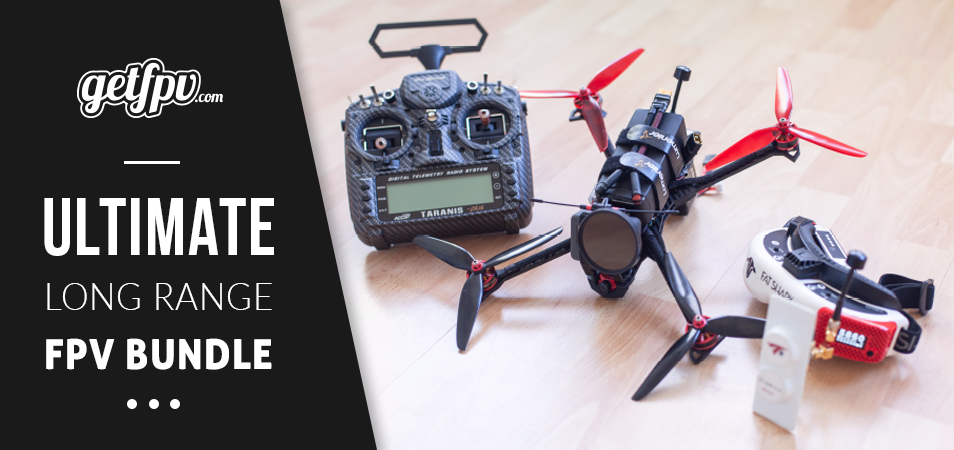 "Imagine if a Lamborghini and a stealth attack helicopter had a baby"
The featured frame in this build guide is the Falcon Multirotors Raggio Lungo, available directly from GetFPV here. Unsure if the Raggio Lungo is the right frame for you? Take a look at GetFPV's 'Beginners Guide to Long Range FPV'.
The Raggio Lungo is a TPU accesorized carbon fiber frame, naturally kitted out in full stealth black. Measuring 300mm motor to motor, the Raggio effortlessly swings both 6″ and 7″ props. Despite its rugged carbon fiber construction and roomy internals, the Raggio weighs in at just 150g, a miracle considering the sheer size of this beefy frame. Construction is straightforward and maintenance is an absolute breeze with the included inset nuts and 'pop-top' plate.
The selected power train is no less impressive: TMotor F40 Pro II motors swinging hyper-responsive HQ 7″ props on 6S grants the Raggio ridiculously high cruising speed and plenty of pep. The XRotor 45A 4-in-1 ensures the motors can draw the amps they deserve, while the G2 FC keeps the Raggio locked in and cruising like it's on rails.
Build Instruction:
Please see here for build instruction from our content writer, Callum Thorburn : https://www.getfpv.com/learn/fpv-build-logs-and-guides/long-range-fpv-quadcopter-build-log-raggio-lungo/
or the video provided by the original builder of this bundle, and GetFPV's own Digital Marketing and Content Manager, Jaco Koekemoer (Sozo FPV) here:
DISCLAIMER
Flying FPV can become addictive.
More Information
| | |
| --- | --- |
| SKU | 9408 |
| Manufacturer | Falcon Multirotors |
| Item Returns | This item can be returned |