Details
This is the new FPV 5.8G 600mW A/V Transmitting/Receiving System + RC832 - 40CH Edition SMA (both TX and RX)
The TS832 Transmitter packs a whopping 600mW of ultra clean 5.8GHz power! A must for those looking for longer range and locked in video. The TS832 is transmitting a full range of 40 channels and uses an easy to use 2 button interface, it also comes with a clean pre-wired harness, and only weighs in at 21g, it's perfect for a wide range of aircraft!
The RC832 Receiver is nice and small in size for easy integration into your ground station, but big in quality and features. The receiver uses the same two button interface as the TS832 Transmitter making channel swapping a breeze. There are two independent AV outputs for both audio and video. So you can use a monitor and set of goggles or maybe a DVR to record your flight, for when your significant other asks where you were for the last 4 hours. It also has frequency memory, so when you power down it will save the last frequency channel you were using. Powering the receiver at the field is as easy as plugging in a 3 cell lipoly into the included prewired cable with mini JST. It just doesn't get any simpler than this.
Features
40channels: Cover A, B, E bands and F bands
Two switching buttons for the band and channel
Two digits display for the band and channel
Power off memory for last channel and band
Dual Independent video and audio signal outputs
RX RC832 Specs:
Power input: 12V
Working current: 200mA max
Antenna impedance: 50
Antenna gain: 2db
Video impedance: 75
Video format: NTSC/PAL auto
Dimension: 80x 65 x15mm
Weight: 85g
Antenna connection: SMA
TX TS832 specs:
Power input: 7.4-16V (3S Lipo / ~12v suggested)
Outputs 12v (matches input voltage)
Transmitting power: 600mA
Antenna gain: 2db
Working current: 220mA at 12V
Video bandwidth: 8M
Audio bandwidth : 6.5M
No auido input on Tx (will not work with antenna trackers)
Weight: 22g
Dimension: 54x 32x 10mm (excluding antenna)
Video format supported: NTSC/PAL
Antenna connection: SMA (not RP-SMA)

Note: This Rx is not compatible with newer ImmersionRC or Fatshark Nexwave branded transmitters.
Compatible with Boscam, Foxtech and other generic branded FPV gear within the same frequency range.
Included
1 x transmitting unit (TX)
1 x receiver (RX)
2 x antennas (2db)
1 x Power cable for rc832
1 x power cable for tx832
1 x user manual
*Note: TX antenna must be installed properly before it is switched on, power on without install antenna, or a improper antenna was used may easily burn the TX, and such damage is not covered by warranty.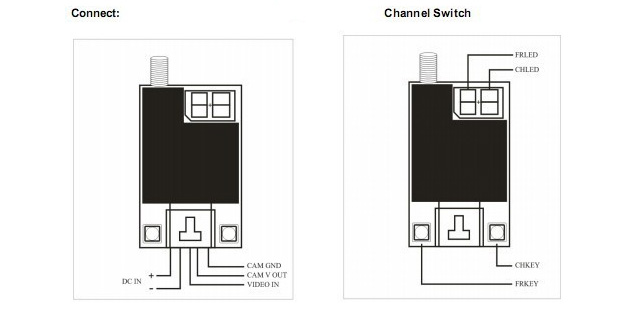 Additional Information
| | |
| --- | --- |
| SKU | 1581 |
| Manufacturer | GetFPV Affiliate |
FPV Regulatory Notice
The use and operation of this type of product in the USA and many other countries may require a license and some countries may forbid its use entirely. In the USA, you will need a "HAM" amateur radio license. Learn more about HAM licenses. It is your responsibility to ensure that the use of this product meets the requirements imposed by your government's rules and regulations for RF devices. Do not purchase this product if you are unsure of the government requirements or are not able to comply with them. GetFPV cannot be held responsible for your actions if you purchase and/or use this product in violation of your government's regulations. By agreeing to our terms and conditions during the check-out process, you also agree to have read and to understand this notice.
You may also be interested in the following product(s)
Regular Price: $44.99

Special Price $39.99

Regular Price: $54.95

Special Price $39.99